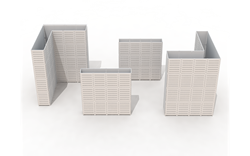 There are several upcoming shows across the United States that heavily favor the use of slatwalls and we hope to cater to exhibitors across the nation in time for those shows. - Mr. Adduru
Tustin, CA (PRWEB) August 27, 2015
Displays & Exhibits, a retailer for portable and modular trade show displays, has announced they will now accept custom orders for their slatwall displays. The D&E slatwall initially launched in 10', 20, and 30' kits, but has always lent itself to custom configurations. Now customers will have the option to submit or request their own custom designs directly from D&E.
The D&E slatwall was introduced as a build-your-own merchandising wall for retail products. Its portable and modular design has always presented customers with the option to create their own variations, but custom designed arrangements have not been publicly available till now. E-Commerce Manager Zenos Adduru decided that with the growing popularity of slatwall displays in the trade show industry, it was time to fully embrace customizability.
"We could not have chosen a better time to incorporate this functionality", says Mr. Adduru. "There are several upcoming shows across the United States that heavily favor the use of slatwalls and we hope to cater to exhibitors across the nation in time for those shows." One show Mr. Adduru is particularly excited about is the upcoming Diving Equipment and Marketing Association (DEMA) Show in Orlando, Florida. "Exhibitors at DEMA have made widespread use of slatwalls in recent years and we're excited to see what custom designs people will come up with."
Just last year, Trade Show News Network included DEMA in the Top 250 Trade Shows list and Trade Show Executive Magazine named it one of the 50 Fastest-Growing Shows in the United States. The show takes place November 4th to 7th at the Orange County Convention Center in Orlando, Florida and this year will feature a Scuba Demonstration Pool to test and showcase products. Register by September 30th to qualify for the Early Bird Registration discount!
About Displays & Exhibits
Displays & Exhibits is a division of Absolute Exhibits, Inc. - a leader in the trade show industry with multiple full service exhibit houses located around the globe. The division started in the wake of Absolute Exhibits' success as a means to educate and serve first-time exhibitors in ins-and-outs of the trade show industry. The company is located in Orange County, California where they host a showroom that is open to the public with an appointment.
About Absolute Exhibits
A leading exhibition firm, Absolute Exhibits provides clients with turnkey solutions for designing and fabricating exhibits while managing the entire trade show experience as a one-source trade show and convention exhibit resource. Established in 2000, with locations in Southern California, Las Vegas, Orlando, and Bucharest, Romania, Absolute Exhibits rents and sells custom and system exhibits at over 300 shows in the USA and in countries around the world.