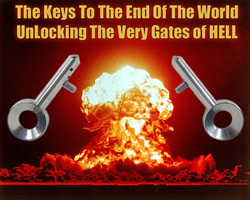 Historically, these unique-looking, titanium keys have produced a phenomenal amount of interest
Eastern Shore, DE (PRWEB) August 27, 2015
Long time eBay seller Estate Auctions, Inc. has again offered a rare and unique collectable. A piece of history is being auctioned off on eBay® ending Monday August 31st at 9:42 p.m. This isn't just any piece of history, but one that is almost impossible to acquire. The ICBM Launch Keys brought to the West by Soviet cosmonaut and Major General Yuri Glazkov are available for all to see but for only one to purchase. Historically, these unique-looking, titanium keys have produced a phenomenal amount of interest, from generating hundreds of thousands of hits to being featured on cable's History Chanel's super hit show Pawn Stars.
According to Norb Novocin, veteran multi-million-dollar power seller on eBay® and author of the go to eBay book Getting SOLD On eBay®, the Treasure Hunter's Guide to Making Money, "This is the third time we have sold a set of these keys, they are probably one of the rarest items we have ever sold. They only come up every five to six years when one of the few owners of them decide to pass them on. The Cold War was a tense but vital part of the history of the world. Having such an important component of it flow through our hands is a privilege."
Back in 2004, Novocin was given two sets of these keys on consignment by one of his many loyal clients. When the Soviet Union was breaking up, General Glazkov gave several gifts to Novocin's consignor, including these keys. Novocin researched their authenticity and contacted officials in the U.S. Air Force Office of Special Investigations, the Department of Defense, and the Foreign Material Acquisitions. All verified the keys as Soviet Union ICBM launch keys. They were the only nuclear ICBM launch keys to ever make it to the West.
The fact that Soviet Union ICBM launch keys were guarded and never released to the public is one of the features that makes them extremely uncommon. It also increases the curiosity level for both collectors and non-collectors alike. Except for that thin slice of time when the Soviet Union was disintegrating, acquiring nuclear launch keys was impossible.
Through social media networks such as Twitter and Facebook the word of this unusual event is spreading fast!
In a rare gathering of all of the parties involved in the acquisition and research of the keys Estate Auctions, Inc. founder Norb Novocin was able to get each to clarify the fascinating story of their history.
*************************
The Estate Auction team specializes in handling consignments rare and valuable antiques and collectibles. They continue to satisfy the taste of a loyal customer base and have even published a book about these experiences. Getting Sold On Ebay, The Treasure Hunter's Guide To Making Money, which has received stellar reviews and is receiving national attention.
To learn more about upcoming items for sale or consigning information please Estate Auctions, Inc. on Facebook.com/EstateAuctions or call 1-800-573-3508.