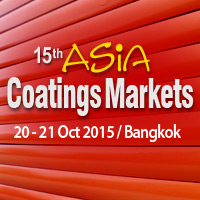 15th Asia Coatings Markets promises an intensive dialog on Asia's paints and coatings market dynamics backed by strong demand from automotive, manufacturing and construction sectors.
Bangkok, Thailand (PRWEB) September 01, 2015
As Asian countries like India and Indonesia ramp up infrastructure development work, the region's paints and coatings industry anticipates brisk business. This coupled with the strong automotive industry in the region, demand for paints and coatings is set to accelerate in the near future. Riding on these key trends, 15th Asia Coatings Markets conference will kickstart with a presentation on 'Asia' Changing Role in the Global Coatings Industry' led by Charles Bangert, Partner, Orr & Boss.
Among the major paints and coatings producers speaking at the conference is Richard SH Seow, Chief Technology Officer, Nipsea Group. In his address on 'Decorative/ Architectural Paints Demand Trends & Outlook', he will highlight the perception of environment-friendly products in Asia. Providing views on 'Sustainability & New Building Trends in Asia' is Elmar Kleiner, Founder & Director, Office for Interior & Architecture (OIA). The agenda also has a presentation on 'How will the Water-based Conversion Trend in China Affect the Coatings Industry in Asia?' to be delivered by Peter Pui, Regional Director Asia Pacific-Specialty Coatings, DSM.
Jeff James, Business Director, Protective Coatings, South Asia, AkzoNobel will provide details of 'Protective/ Marine Coatings Market Outlook' while Bent Kidmose, Director Applications, Asia Pacific, Bangkok Sherwin Williams will discuss 'Solvent Based to Water Based in Industrial Finishing'.
In addition to above, a session on 'Sustainability as Business Driver in Automotive OEM Coatings' will be presented by Gecha Ritvirulh, Senior Manager, Coatings Solutions ASEAN, BASF Thai Ltd., 'India Pipeline Coatings Market Outlook & Trends' by Dr. Buddhadeb Duari, Director, Lalita Infraprojects and another on 'Innovative Designs in Painting Lines' presented by MK Ganesan, Managing Director of Prism Group of Companies. Another key session on 'Polyurethane Coating Technology Innovation for the Automotive OEM industry' will be delivered by Hiroshi Morita, Manager Application Development & Industrial Marketing CAS Automotive, Bayer MaterialScience (Covestro as of Sep 1).
Country focused session on China, CLMV plus development of coatings application in food packaging are also in the agenda.
View 15th Asia Coatings Markets website for more details.
Contact Ms. Huiyan at +65 6346 9113 for further enquiries.