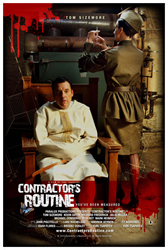 '[Contractor's Routine is a] visually stunning new film with impressive acting performances and skillful direction talent.' - Roger Rose, Cinesource Magazine
San Francisco, CA (PRWEB) August 28, 2015
Thrill seekers will love the new DVD thriller Contractor's Routine, starring Tom Sizemore and Kevin Giffin and directed by Russian director, Yuri Tsapayev. This independent film is filled with intrigue and will keep audiences wanting more. Contractor's Routine is a psychological thriller that entails a man named Jacob who seems to be a very ordinary artist, yet develops his very own alter ego. This alter ego stems from his intelligence, and tries to keep Jacob on a straight and narrow path; however, Jacob's disorder begins to rule over him.
As an independent film, this movie touches on a variety of themes - addiction, fantasy, living out fantasies and more. Viewers will be captured and intrigued by the twists and turns set in this independent film.
Dive into the mind and world of main character Jacob Borschevsky. Throughout the feature film, viewers will see the ins and outs of the San Francisco life that 40 year-old Jacob lives. Working as a contractor, Borschevsky fantasizes about killing people. This mindset begins to overtake him as he struggles day in and day out with another side of himself. The darker side of this character finds beauty among the darkest places in life. Not only is this new DVD interesting, but it is one thriller you will not be able to forget. As time goes on, Jacob is thrown deeper and deeper into his obsessions. He begins to throw his thoughts into wooden crafts that soon overtake his life. These crafts link him more and more to his dark side.
Don't miss out on the psychological thriller of the year! Delve into the world of dark fantasy and go on the journey with Jacob as he fights to find balance. With wonderful scenery and a plot like no other, Contractor's Routine is sure to become a favorite!