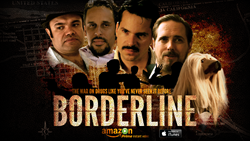 "The War On Drugs Like You've Never Seen It Before"
(PRWEB) August 31, 2015
Traverse Media presents a Wizeguys Comedy production, written and directed by Geo Santini, produced by Maurice Fadida and executive produced by Jose Daniel Bort.
The series stars Santini along with stalwart actors in the LA comedic scene, such as Eric Curtis Johnson, Wilmer Calderon and Erick Chavarria. "We let the material speak for itself through the right actors for the characters, instead of trying to cast up and play the stars' game," said Santini.
After showing an early cut of the episodes and flirting with several platforms for their release, the producers decided to engage Traverse Media as their distributor in North America. Traverse Media has a fluid working relationship with Amazon through several past film releases. "We've released several films through the platform, but BORDERLINE is the first series that we've placed on Amazon. Even though we have interest from other platforms to release it concurrently, we believed it was best if we put most of the attention in only one place and then spearhead from there," said Cole Payne, CEO of Traverse Media.
In addition to Amazon Instant Video and Prime, the series will also be made available on additional platforms in 2016.
"Like" BORDERLINE on Facebook and "Follow" the series on Twitter and join the discussion using #BorderlineComedy.
About Traverse Media
Traverse Media, a Los Angeles-based motion picture production, film distribution, and talent management company was launched in early 2013 by ERRORS OF THE HUMAN BODY producer Cole Payne. Management executive Jeremy Loethen is also a partner in the venture. Traverse's agenda is to create an efficient and strategically effective bridge between the different facets of the motion picture industry, as well as between content creator and consumer.
On the distribution side, Traverse focuses on acquiring quality content across all genres and budgetary levels, while also looking to funnel its own productions through the pipeline.
Traverse is currently expanding access in the theatrical and digital marketplaces. The company has several films in online and cable VOD release, with more titles added to the catalogue every month. Recent Traverse titles include SUGAR, starring Shenae Grimes, Marshall Allman and Corbin Bleu, and the award-winning New York Times Critic's Pick TWO STEP, currently in theatrical release.
About Wizeguys Comedy
Like the odd new kids on the block, Wizeguys Comedy are making waves with their colorful webisodes with a style that teeters between, SNL and a good old fashion kick in the shin. Each original short, whether animated or scripted it will leave you soiling yours with infectious humor and satire. Their outlandish comedic style has the YouTube community returning to their channel to indulge in their favorite webisodes like "Geos Pizza" (Season 1) and "Cocks," the femme version of the classic Hooter's joint, that is delightfully exaggerated to have you lingering for more from none other than the Wizeguys of Comedy. Wizeguys Comedy was founded by Geo Santini and Senior VP of Operations Todd Chamberlain in 2012.