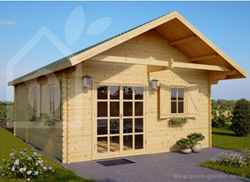 A well-maintained garden log cabin will last for at least 30 years as a minimum. Cabins made from large logs can still be going strong in over 100 years' time.
(PRWEB UK) 1 September 2015
Sales of log cabins have soared in recent years; countries such as France, Germany and the UK have fallen in love with these cosy but elegant structures although they have long been commonplace in Eastern Europe and Scandinavia. Manufacturer of log cabins QUICK GARDEN, LTD has released this tip sheet to make it easier for everyone to choose a proper log cabin.
While the aesthetic advantages of log cabins are obvious, it is still a major investment to make and everyone should know what they are getting into. To help, here is a list of the 9 most important things everyone should take into consideration before purchasing a dream log cabin.
1. Planning permission and building regulations
Planning permission and building regulations are always a nightmare but the situation in the UK is largely favorable towards the installation of log cabins. They are generally exempt from planning permission as long as property is not a listed building or does not fall within a protected area (National Parks, Areas of Outstanding Natural Beauty, World Heritage Sites, etc.). In such cases, consultation with local authorities is advisable. Otherwise, log cabin height must be up to 4 meters in height, as long as it is not within 2 meters of the boundary of the dwelling house. Other things to consider are: 1) The cabin's eaves must not exceed 2.5 meters 2) No verandas, raised platforms or balconies 3) The cabin cannot be used commercially or as a dwelling. For more detailed information visit: http://www.planningportal.gov.uk
2. Foundations
Choice of foundations mainly depends on the land on which log cabin will be erected. Level ground is ideal, while sloping ground requires more thought and planning and perhaps even some additional landscaping. A concrete slab is the best option but costlier. Depending on the soil and slope, a timber frame base is a simple option. Adjustable height pvc pedestals are best for sloping ground. Supplier should happily advise on this issue. If log cabin has to satisfy any local building regulations, building inspector can also advise on the best choice of foundations.
3. Structure wall thickness.
The most popular thickness for log cabin walls in the market are: 28mm, 34mm, 44mm, 66mm and Twin Skin (double wall structure with insulation between the walls. The most cost-effective option is 44mm as it usually comes with double Tongue and Groove profiled wall timber. Such a double tongue & groove profile ensures better natural insulation compared with a single tongue & groove profile.
4. Installation time. One of the great advantages of buying a log cabin is that almost anyone can build it. It is relatively very easy and quick to install and can be done by anyone with the most rudimentary skills (i.e. knowing how to handle a hammer and screwdriver!). Cabins come complete with detailed assembly manuals and there are lots of how-to videos on YouTube and the websites that sell them. Most companies also offer the additional option of assembling a cabin for an additional fee. It takes, on average, 1-2 days for a single person to assemble a 20 sq.m. cabin.
5. Maintenance. Log cabins are made of wood and, as such, they need to be protected with good quality preservative. Given the average weather conditions in the UK, it is recommended to apply treatment every 2-3 years. It is also necessary to ensure that cabin is well-ventilated in order to prevent mold. That means it needs a regular airing.
6. Durability. "A well-maintained garden log cabin will last for at least 30 years as a minimum. Cabins made from large logs can still be going strong in over 100 years' time" - says Vidimantas Geciauskas, log cabin construction specialist.
7. Timber. As a rule, log cabins are made of conifer timber (spruce or pine), but slow-grow conifer timber is probably the best option because it is denser and less knotty in comparison with average conifer timber. This results in better longevity. So it's better to buy a cabin made of slow-grow timber even if it costs a little more.
8. Price. As a rule, good quality products always cost more and the same goes for log cabins. A great deal of skill (and advanced technology) goes into making them and this is reflected in the price. In cases where slow-grow timber is used, there is the additional cost of importing the timber from Siberia or Scandinavia. Expect to pay around £140 per square meter for a garden cabin (i.e. for a 44mm model) for a good quality, long-lasting product.
9. Where to buy. Most garden cabin sellers are middle-men. This means they buy the product from the manufacturer or trader and sell it on to the customer by adding on a large profit margin. So to get the best value for money, it is best to buy log cabin directly from the manufacturer. Moreover, manufacturers provide more guarantees compared with middle-men retailers.