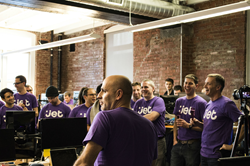 By offering customers the option of not returning items, in exchange for further savings, Jet has the potential to reduce its costs significantly
(PRWEB UK) 27 August 2015
There's a new kid on the e-commerce block, and one that could be as revolutionary as Amazon was on its launch 20 years ago. International airfreight comparison site ParcelHero, an e-commerce fulfilment specialist, says the new US site Jet.com will be a game-changer in the industry, thanks to its unique cost saving approach to logistics.
ParcelHero's David Jinks MILT says Jet.com has had a successful flight so far after its take-off on July 21. The new site already has some 1,600 retail partners, and is selling some 10 million products. David says Jet's claim that its customers will receive 'the lowest price on anything they buy online', is viable because of its innovative approach to deliveries. Says David: 'Many companies fail to perceive how their delivery options can actually give a positive commercial advantage. Here is an instance of a newcomer bringing an entirely new approach to fulfilment and returns, significantly reducing its overall costs.'
Explains David: 'The site makes much of its money from customers' initial subscription of just under $50 – rather like Amazon's Prime membership. For this it promises to offer prices that are 10-to-15% lower than anywhere else. How Jet keeps its prices low is because of its delivery options: products start at about 8% cheaper "up front", but the site then offers additional discounts when shoppers combine multiple orders into a single shipment, which cuts delivery costs. The more customers bundle purchases, the more the discount increases.'
David reveals one other clever way Jet keeps costs down is by asking customers to waive the ability to return something. 'By offering customers the option of not returning items, in exchange for further savings, Jet has the potential to reduce its costs significantly. Once an item has been returned twice no one makes money on it; and some sites are experiencing up to 60% returns on items such as clothing.'
And there's one other delivery option that also reduces prices and costs dramatically. 'Buyers will also make savings by waiting for their orders. By pushing slower economy shipping offers, Jet won't be competing on speed but price,' says David.
David says the skies for Jet look clear so far. Jet is led by Marc Lore, a founder of online retailer Quidsi -- including diapers.com and soap.com – which he sold to Amazon in 2011 for $545 million. 'The new company is concentrated on its logistics. Lore has spent $40 million on hiring 300 people; opening warehouses in Kansas, Nevada and New Jersey; and taking losses through subsidized prices.'
ParcelHero's recent industry report – Amazon's Prime Ambition – details how the original industry disruptor plans to fight off new competition through building its own logistics provider, Amazon Logistics.
For more details of how to find the best delivery mailing options see: https://www.parcelhero.com/en-gb/courier-services/compare-courier-prices