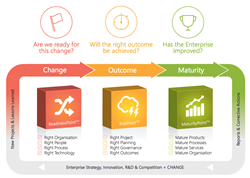 We especially liked MaturityPoint as it allows the client to benchmark the Maturity of any given capability in the business.
JOHANNESBURG, SOUTH AFRICA (PRWEB) August 29, 2015
As business leaders embark on the competitive digitisation of the Enterprise the transformational executives of today need to deliver successful change programs in an ever more complex information & collaboration landscape, whilst still demonstrating tangible improvements to the business. A wide range of Knowledge and Information Management (KIM) processes and assets need to be considered in these programs allied to strategies and solutions to enable the Enterprise to improve KIM capability maturity over both the short, medium and long term.
"This is the exact challenge we see our clients grappling with every day", said Nick Bradshaw, co-founder & Managing Partner at Complexus. "The speed and volume of technology based change in today's digital Enterprise is driving the need for more agile approaches to how we assess, benchmark and audit core Enterprise capability so that clients improve faster and can do more with the people and technologies they are investing in".
Ben Fouché, Director of Knowlead Consulting and Training agrees, "We assist organisations in developing and implementing a wide range of KIM related products and services and facilitate the development and implementation planning of appropriate KIM strategies aligned with the Enterprise strategy. Competition in the modern knowledge economy creates challenges that require on-going adaptive change interventions rather than periodic big bang grand strategising. Our solutions are not based on a one-size-fits-all methodology but rather on assisting our clients to make sense of the unique characteristics and this is why we were attracted to the Complexus SharePoint Apps".
Gretchen Smith, Director of Knowlead Consulting and Training stated, "Complexus have developed three unique SharePoint Apps, ReadinessPoint, RiskPoint & MaturityPoint that allow us to help our clients assess change readiness, risk and maturity of the KIM capabilities our clients are developing and deploying. We liked the way they have combined best practice audit questions with corrective actions that allow us and the client to quickly and consistently build an Enterprise wide view with one button reporting and information sharing via SharePoint. We especially liked MaturityPoint as it allows the client to benchmark the Maturity of any given capability in the business. In our case, we perform KIM audits and measuring the maturity of a client's KIM capability needs a configurable maturity tool that allows you to define the competency attributes and scoring definitions to suit the client. It also allows you to drop in internationally recognised standard maturity frameworks such as CobIT and P3M3, so in that respect its a truly unique solution".
Marc Lenferna, co-founder & Director Consulting Services at Complexus stated, "Most major companies around the world use SharePoint with an ever growing army of users adopting SharePoint Online provided via a cost effective Office 365 subscription. SharePoint Apps like ReadinessPoint, RiskPoint & MaturityPoint provide clients and consulting service providers like Knowlead additional ROI from the collaboration platform they have already invested in whilst offering business functions such as Head Office, Board, Strategy, PMO and Continuous Improvement cost effective insights and tooling to help in the transformation and maturity audit process.
Bradshaw concluded, "We can now offer our clients these best practice Apps via the convenience of the Microsoft Office Store, or via our growing partner network as the SharePoint App model makes it easy to trial, purchase and deploy such Enterprise functionality for a fraction of the cost of traditionally built custom Apps, its a truly great time to be pioneering in this space".
All three Apps are available today via the Complexus Microsoft Office Store on a free, per user & site licence basis. The Apps work on-premises or via SharePoint Online Office 365 and are responsive & mobile friendly.  
About Complexus
Complexus is a Microsoft Gold SharePoint consultancy operating out of Cape Town & Johannesburg. Complexus has grown to become a trusted SharePoint solutions provider with a reputation for innovation in the Enterprise Collaboration Strategy Advisory & SharePoint App market. The Complexus service & App portfolio is aimed at organizations seeking to collaborate more effectively and gain a greater return on their investment in the Microsoft SharePoint platform. Complexus offers clients configurable solutions that integrate with SharePoint allied to turnkey consulting and training solutions. Complexus works with a mix of industry partners and is a member of the prestigious Microsoft Business Critical SharePoint Partner Program.
http://www.complexus.co.za enquiries(at)complexus(dot)co(dot)za +27 (0) 21 409 7086
All trademarks & company names mentioned are protected by their respective owner
Press Contacts
Complexus (Pty) Ltd
+27 (0) 21 409 7086
enquiries(at)complexus(dot)co(dot)za