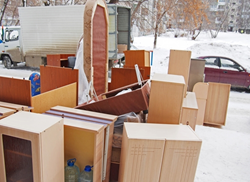 Instead of leaving the room up to the imagination, clear out all the extraneous clutter and create a single purpose for every room
Chicago, IL (PRWEB) August 27, 2015
When comes time to sell a home, The Federal Savings Bank, knows that one needs to ensure that every aspect of the staging is absolutely perfect - first impressions are everything, after all. Sellers want to provide potential buyers with the best vision of what life will be like if they chose to make the old home their new one. This means showing off the house in the best light possible with a proper staging.
The following are four tips The Federal Savings Bank has compiled when it comes to staging a home without hurting the wallet:
1. De-personalize it
Since the seller wants the possible buyers to picture themselves living in the house, consider removing as many personalized belongings as possible to give the place a more neutral feel. This can include photographs, overtly religious items or signs of political affiliation. As Bankrate noted, these can be distracting for potential buyers. Similarly, try to reduce items that might make the house seem too gender-specific.
2. Accentuate it
Be sure the furniture has a good flow and highlights a room's space. Too many tables or chairs in one room can make the space seem cramped or difficult to navigate. Similarly, too many knickknacks or odds and ends can make a room feel cluttered. Consider removing anything that doesn't help add to a particular room's aesthetic.
In addition, maybe plan on buying a new couch for the move. Worn-out, outdated and cumbersome furniture can make a great space look uninviting, so if necessary consider removing what looks out of place or too old and putting it in storage.
3. Illuminate it
Buyers tend to like bright, airy spaces, and a dark room can make a room seem smaller than it is. Make sure all the blinds are open to let as much sunshine come through the windows as possible. If necessary, consider adding lamps in rooms with no windows.
4. Define it
The gym/office/guest room. Everyone has that space that functions for a variety of reasons, or where they store odds and ends that don't quite fit anywhere else. While these rooms might have utility, they can create a conundrum for potential buyers. Instead of leaving the room up to the imagination, clear out all the extraneous clutter and create a single purpose for every room. Staging the room as an office is always a great choice, especially now that so many people now have the option to work from home.
If thinking about moving and are in need of a home loan, contact The Federal Savings Bank, a veteran owned bank, to learn more about mortgages