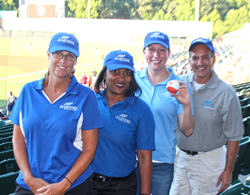 (PRWEB) August 28, 2015
Andrews Federal Credit Union recently partnered with the Bowie Baysox to salute our local Military Heroes. In addition to sponsoring the event, the Credit Union presented a Military Heroes Card Set to the first 1,000 fans, featuring active and retired members of the Armed Forces received through a nomination process.
"Though we set aside a night to honor our military heroes, we believe it is something we should do every day," said Jim Hayes, President & CEO. "We also wish to thank the Bowie Baysox organization for their continued support of this great cause."
Andrews Federal Credit Union's own Oma George, Chief Retail Officer, was given the privilege to throw out the first pitch on the evening. She did not disappoint as she threw what appeared to be a slider over the plate well within the strike zone.
About Andrews Federal Credit Union
Andrews Federal Credit Union was founded in 1948 to serve the needs of military and civilian personnel by providing a vast array of financial products and services.
With over $1 billion in assets, Andrews Federal has grown to serve more than 113,000 members in the District of Columbia, Joint Base Andrews (MD), Springfield, Virginia (VA), Joint Base McGuire-Dix-Lakehurst (NJ), and military installations in central Germany, Belgium, and the Netherlands. In addition, the Credit Union serves as a financial partner with many select employee groups in Maryland, the District of Columbia, and New Jersey.
To learn more about Andrews Federal Credit Union and its community involvement, or to become a member, call 800.487.5500 or visit http://www.andrewsfcu.org.