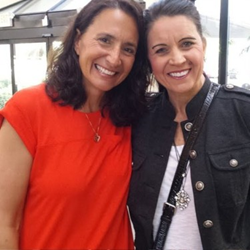 Their journey is a powerful metaphor for the race to end brain cancer. The canyon represents the "valley of death" of underfunded research.
Washington, D.C. (PRWEB) August 28, 2015
On October 3, 2015, BethAnn Telford of TeamBT and Maria Parker of 3000MilesToACure will stand together on the North Rim of the Grand Canyon with a shared mission: to beat brain cancer. In one grueling day, they will race Rim-to-Rim: from the North Rim down to the canyon floor, across the canyon, then up to the South Rim over 21.1 miles and more than 10,000 feet of elevation change.
BethAnn is an Ironman World Champion triathlete, a multi-marathon runner and a 10-year brain cancer survivor. Maria is an accomplished ultra-marathon cyclist and the winner of the 2013 Ride Across America to honor her sister's battle with brain cancer.
Donors and sponsors will help BethAnn and Maria raise critical funds for brain tumor research on behalf of Accelerate Brain Cancer Cure (ABC2). Funds raised will also help produce "Crossing the Canyon" – a short documentary film about their journey. The film will extend their impact beyond the walls of the canyon, inspiring and giving hope to those battling brain cancer.
To donate, please go to: https://www.crowdrise.com/crossingthecanyon
To sponsor, please contact Deana Martin: deana.martin(at)abc2(dot)org
WHEN: October 3, 2015
WHERE: North Rim, Grand Canyon, AZ
WHY: Brain cancer is the leading cause of tumor cancer deaths among children and young adults. There are more than 600,000 people in the U.S. today with a brain tumor diagnosis, and another 66,000 new diagnoses are expected this year. It is a uniquely challenging disease that is need of strategic, focused research funding.
# # #
ABOUT ACCELERATE BRAIN CANCER CURE (ABC2)
ABC2 is a venture philanthropy 501(c) (3) nonprofit organization that drives cutting-edge research and treatments for brain tumors. Through strategic partnerships with medical research centers, early-stage biotechnology companies and large multi-national pharmaceutical companies ABC2 has awarded more than $20 million in brain tumor research funding to highly qualified investigators and physician-scientists from 42 institutions. For more information, please visit: http://www.abc2.org.
ABOUT 3000 MILES TO A CURE
3000 Miles to a Cure is a 501(c)(3). The mission of 3000 Miles to a Cure is to end brain cancer by raising funds for research, extending an open invitation to unite in hope and action for the cure. For more information, please visit: http://www.3000milestoacure.com