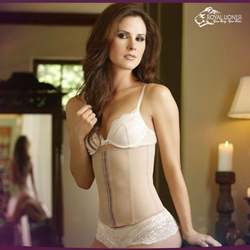 Here at Royal Lioness, we stand by the words, your body, your rules.
Pennsylvania (PRWEB) August 31, 2015
Many women have spent quite a bit of time wondering how someone like Kim Kardashian is able to keep her waist thin, while having such a well developed butt and chest. Now, to a select few, the secret has come out and normal women are being able to master the same sexy look. Enter the new brand Royal Lioness and their recently launched online store featuring the secret of celebrity stars – premium quality Waist Trainers and Butt Lifters used in a technique called the waist vaporizer technique. The hour glass look has just become much more simple for most women to be able to achieve.
Here is the brutal truth about normal workouts and dieting, they take too long! Another brutal truth is after ladies have conceived adorable little babies, they now have to go to war with their new bodies. Losing weight after pregnancy can literally be biological warfare and there just aren't enough hours in the day to take care of a new-born, work, take care of the house and commit to a good workout. Royal Lioness claims this is where the Waist vaporizing technique works best.
Crowning the waist vaporizer technique as the magic that has made multiple celebrities lose weight post baby might seem far fetched but Royal Lioness' customers disagree. Take one of there loyal customers Crystal Vargas for example. She just had her second adorable son, Sergio. She works at MAC cosmetics in New York City and she didn't have enough time to take care of her house as much as she desired to. She knew that Sergio would be her last birth and wanted to get her body permanently toned up. After being introduced to the waist vaporizer technique she claims to have lost 5 inches off her waist in 1 month.
So what exactly is the waist vaporizer technique? The waist vaporizer technique is a workout routine that involves a thermal latex/polyester waist trainer and a handful of targeted abdominal exercises. There are three major steps to the waist vaporizer technique:
Step 1: Own a Royal Lioness Thermal Waist Trainer.
Step 2: A quick Cardio Exercise with the waist trainer and a select group of upper, side and lower ab workouts designed to target the inner and outer oblique muscles of the waist.
Step 3: Wearing the waist trainers for an extra 2-4 hours after the workout routine.
Why is it named the Waist Vaporizer Technique? Royal Lioness states that there Waist cinchers are strictly designed to have Thermal Pockets. These Thermal Pockets store heat at a rate that increases perspiration. Combining the Thermal Pockets and the latex cinching allows the garment to naturally sweats out water weight, fat and slowly mold the body into an ideal hourglass shape. Combine this garment with simple and specific waist training exercises and the results are simply shocking. According to the company, the results of using their Waist Trainers have been so remarkable they have dedicated a whole section of their website to the photos of women showing off their results.
Modern day waist training with a rubber/latex waist cincher is not the same as the old school waist training with an extreme, 24 boned corset. The tight corsets were known to misplace organs and affect long term health. A modern waist cincher is a latex/rubber waist garment that constrains your waist and holds heat around the waist area. The material allows the body to be agile, flexible, or able to workout and conduct normal daily activities. "Waist trainers are made of latex to increase sweating, and cinched tight to discourage over-consumption," explained L.A.-based fitness and lifestyle expert Christine Bullock on an interview. She says these belly binders are not a hoax, as they do squeeze out retained water and produce results if worked and utilized it well. Here is a detailed waist training review here.
Celebrities like the kardashians, Jessica alba and many others have publicly announced that they use latex waist trainers to lose baby fat. (Here is a short article on 10 celebrities who waist train.) They have proven multiple times that waist training works.
:
Royal Lioness claims that the waist vaporizer's workout techniques are what guarantee long term results. The routine starts off with a short cardio exercise and then a group of unique ab exercises that target the core area. These workouts include the Scorpion plank, the atomic V-UP, The Side plank Trio and the stacked sit up. The detailed descriptions can be found in this waist workout guide.
After the workout, the company recommends keeping the waist trainer on to maximize the continuation of the vaporization. The waist trainer will store the heat from the workout and keep the core muscles going, post workout. "Sort of like leaving your muscles on a workout loop automatically!" Says the CEO Brian Kiriba. "These three easy steps will guarantee results in a matter of weeks." The before and after waist training reviews and images found in the Royal Lioness website is what they consider the decisive factor. They brag to have the best affordable waist trainers and claim to be able to back it up!