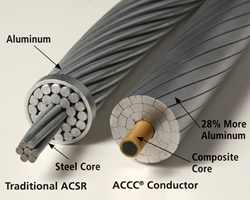 Rather than building new transmission lines, ACCC conductors can replace existing ACSR conductors to increase energy output.
Spartanburg, SC (PRWEB) August 31, 2015
AFL, a global manufacturer of fiber optic cable and accessories, and CTC Global, a manufacturer of conductor core, introduces HiTemp compression accessories for use on ACCC (Aluminum Conductor Composite Core) conductors.
AFL's HiTemp accessories are designed and engineered to operate 25-30 percent cooler than the conductor, improving heat dissipation. These accessories are fabricated from a specially tempered aluminum that transfers elevated current and dissipates increased heat more efficiently. The compression high tension fittings use a unique patented technology designed to hold at least 95 percent of the rated conductor breaking strength without compromising the integrity of the composite conductor core.
ACCC conductors are high-capacity, low-sag conductor that utilizes a hybrid carbon and glass fiber core that offers greater strength, a lower coefficient of thermal expansion, lighter weight and excellent corrosion resistance. ACCC conductor offers twice the capacity while cutting line loss by 25-40 percent under equal load conditions.
"With the increased need for power, greater electrical loads are put on existing lines that are unable to handle that load," commented Gary Harter, commercial manager for AFL's accessories division. "ACCC conductor carries up to twice the current of conventional ACSR conductor. So rather than building new transmission lines, ACCC conductors can replace existing ACSR conductors to increase energy output."
AFL's HiTemp product line consists of compression and motion control accessories, pulling grips and high temperature compounds as a solution to installing this new technology.
Dave Bryant, director of technology at CTC Global added, "As demand for ACCC conductor has increased exponentially over the last several years, CTC is very pleased to be able to offer AFL's high performance HiTemp hardware and accessory solutions to our growing customer base."
For more information on AFL, its products and services, visit http://www.AFLglobal.com.
About AFL
AFL provides industry-leading products and services to the electric utility, broadband, communications, factory, enterprise, wireless and transit rail markets as well as the emerging markets of oil and gas, mining, nuclear, avionics, medical, renewable and intelligent grid. The company's diverse product portfolio includes fiber optic cable, transmission and substation accessories, outside plant equipment, connectors, fusion splicers, test equipment and training. AFL's service portfolio includes market-leading positions with the foremost communications companies supporting OEM, outside plant, enterprise and wireless areas.
Founded in 1984, AFL is proud to offer engineering expertise, exceptional products and reliable service that help our customers improve their critical and electrical infrastructure. AFL has operations in the U.S., Mexico, Europe, Asia and Australia. The company is headquartered in Spartanburg, SC and is a wholly-owned subsidiary of Fujikura Ltd. of Japan.
About CTC Global
CTC Global is the privately held developer, marketer and manufacturer of composite hybrid carbon fiber core used in ACCC®, the high performance, high voltage power line solution. CTC Global serves utility and industrial companies around the world and has provided core used in over 330 projects totaling over 30,000 kilometers of power line conductors. CTC Global is located in Irvine, California.