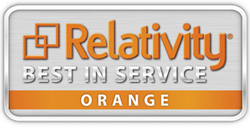 Multi-tenancy is a great solution for our customers who would like more control over their managed service implementation
Rochester, NY (PRWEB) August 27, 2015
D4, LLC, a national leader in eDiscovery managed services, litigation support, computer forensics and deposition solutions, today announced availability of a multi-tenant deployment of kCura's Relativity. Multi-tenancy allows Premium Hosting Partners in the Relativity Best in Service program to serve multiple Enterprise customers in a single Relativity deployment. Multi-tenancy also provides an easier way to securely isolate users, resource pools, workspaces, groups, and matters by client.
John Rubens, D4's Chief Operating Officer said, "Multi-tenancy is a great solution for our customers who would like more control over their managed service implementation. Extending this functionality throughout our domestic and international datacenters is enabling us to deliver a greater level of flexibility and scalability to our clients."
Users can customize the permission settings to various objects according to their preferences within a tenancy. All items within the client's tenancy settings are inaccessible to any users outside of the tenancy. Non-system admins, referred to as tenant admins, can perform common administrative tasks within the tenancy while having limited visibility into the full environment. This resource isolation functionality provides the same level of security and performance for enterprise clients as a single deployment by granting them administrative control over their own portions of the environment.
D4 was one of the first eDiscovery service providers to offer a Managed Service solution to the industry and is continuously searching for new ways to enhance customer satisfaction. John Holland, CEO of D4 stated, " D4 has managed service solutions for all sizes of firms and corporations and our multi-tenancy environment just enhances what we can offer our customers while reaping the benefits and cost savings of a shared deployment."
Multi-Tenancy is only available to Relativity Best in Service partners running Relativity 9.1 or higher. Contact D4 today for more information at 800-410-7066 or visit http://www.d4discovery.com
About D4, LLC
D4 is a leading national provider of managed data and discovery services to law firms and corporations. D4 was one of the first providers to offer an eDiscovery Managed Services solution, which launched in 2011. D4 has been instrumental in helping customers realize up to a 70% cost reduction over previous eDiscovery solutions. The company's state-of-the-art data center operations in Rochester are complemented by electronic discovery and litigation support offices throughout the country. D4 has been recognized by Inc. Magazine as one of the fastest-growing private companies in the US for four consecutive years. Visit http://www.d4discovery.com for more information.