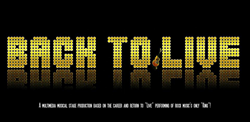 Orlando, FL (PRWEB) August 27, 2015
"Back To Live" Elvis Tribute Show Set To Rock N' Roll Central Florida On Saturday, September 19
Esteemed Actor Ted Torres Martin to Perform Multimedia Musical Stage Production Show Based on the Life and Career of Elvis Presley
Orlando, FL (August 27, 2015) – Get ready Central Florida… "The King" is coming. Award-winning entertainer and recipient of the 2014 "Heart of the King" Award Ted Torres Martin is proud to bring Central Florida the live stage production of "Back to Live" on Saturday, September 19 at the Athens Theater in Deland starting at 7:30pm. The multimedia stage production will take audiences on an astounding musical journey through the life and career of "The King of Rock n' Roll" himself Elvis Presley.
This first-of-its-kind musical performance tells the story of Presley's modest beginnings, rise to fame and return to live performing while featuring some of his greatest hits including Blue Suede Shoes and Hound Dog and even a few rare and classic tunes. Through the use of multimedia film sequences, live stage acting and concert segments featuring backup singers Estelle Brown and Portia Griffin of the legendary band "Sweet Inspirations and a live band with a horns and string section led by renowned violinist Michelle Jones of "Violectric," "Back to Live" creates an entertainment experience like no other.
"In addition to being an amazing musician, singer and entertainer, Elvis was a down-to-earth and humble person with a big heart," says Torres Martin. "My love and respect for him and his music have kept me focused as a tribute artist for all of these years. "'Back to Live' is a show unlike any other because it shows you Elvis' human side. It will leave audiences with knowledge of not only how great of an entertainer he was, but also a kindhearted, down-to-earth human being."
Torres Martin has been captivating audiences worldwide with his talent and warm audience rapport for over 12 years. His portrayal of the King of Rock n' Roll has won numerous awards, and he has been named one of the Top 5 Tributes in the world. An experienced performer, Torres has acted in many stage productions including "Biloxi Blues," "One Flew Over the Cuckoo's News" and "Death of a Salesman." He is also an accomplished musician/songwriter and is currently working on his own original music.
"Back to Live" is open to the public ages eight and up on Saturday, September 19 at the Athens Theater located at 124 N Florida Avenue, Deland, FL 32720. Doors open at 7pm. Show starts at 7:30pm. Preferred seating tickets are $28. General admission is $22 and discounted Senior and Student tickets are $18. For more information and to purchase tickets, visit http://www.backtolive.com, http://www.athensdeland.com or call 386-736-1500.
###
MEDIA CONTACT: Ilene Lieber, 321-277-7812, ilene(at)passionprconsulting.com