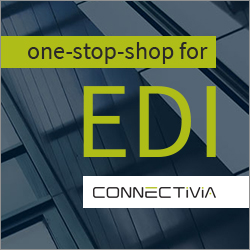 "Our customers look to us to solve their EDI problems quickly, efficiently, and completely. And that's exactly what we do for our clients both large and small." -- Nicolas Séguin, Director of Operations at Connectivia
Montreal, Quebec (PRWEB) August 28, 2015
Connectivia is pleased to announce the launch of its new website. The site is designed to provide information for companies that require secure and efficient electronic data interchange (EDI) services.
EDI is a communication standard that allows companies to exchange documents electronically, including purchase orders, invoices, schedules, reports, and notifications. For many major retailers, EDI is the primary way they exchange information with their business or trading partners; each retailer has its own security, compliance, and communication protocols. The Connectivia website provides details on its EDI solutions, which are fully compliant with major retailers, as well as how its team of experienced specialists can help small or large companies efficiently meet the data exchange and communication requirements of major retailers.
Connectivia provides a full spectrum of highly intuitive, user-friendly EDI solutions, offering both on-premise and cloud deployment and integration to several commonly used ERP solutions. Its solutions are developed in-house so can be quickly adapted to evolving industry requirements and continuously improved with the latest technologies.
As Director of Connectivia Operations Nicolas Séguin notes, "Our customers look to us to solve their EDI problems quickly, efficiently, and completely. And that's exactly what we do for our clients both large and small."
Visit the new website at http://www.tec-connectivia.com or for more information on Connectivia's EDI solutions, contact Nhoé Dominique, Business Development Manager at connectivia(at)tec-centers(dot)com
About Connectivia, a Division of TEC
Connectivia, a division of Technology Evaluation Centers (TEC), is a leading solutions provider for electronic data interchange (EDI) services and business-to-business (B2B) communications. Its primary objective is to help companies exchange data electronically in an efficient and secure manner by leveraging the latest technologies. Over 500 companies in North America and Europe use Connectivia's services to facilitate the management of their inventory and accounting processes.
For more than 15 years, Connectivia's dedicated team of experts has ensured that its clients' requirements are 100% fulfilled with highly intuitive, turnkey EDI solutions, as well as advanced integrations. Its solutions are fully compliant with the industry standards followed by major trading partners and are available for on-premise or cloud deployment. Connectivia's solutions are developed in-house so can be easily adapted to any organization's requirements and are continuously improved according to the latest technologies. For more information, please visit http://www.tec-connectivia.com.
About Technology Evaluation Centers (TEC)
Technology Evaluation Centers (TEC) is the world's leading provider of software selection resources, services, and research materials, helping organizations evaluate and select the best enterprise software for their needs. With its advanced decision-making process and software selection experts, TEC reduces the time, cost, and risk associated with enterprise software selection.
Over 3.5 million subscribers leverage TEC's extensive research and detailed information on more than 1,000 leading software solutions across all major application areas. TEC is recognized as an industry-leading software selection advisory firm offering resources and services both online and onsite. For more information, please visit http://www.technologyevaluation.com.