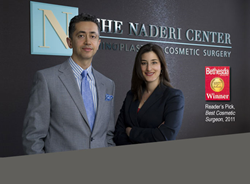 Herndon, VA (PRWEB) August 27, 2015
The Naderi Center is proud to announce that its own Dr. Jessica Kulak will now be offering Kybella, a cutting-edge, noninvasive procedure to improve submental fat. The first and only Food and Drug Administration (FDA) approved treatment for the double chin, Kybella provides permanent results without surgery. Dr. Kulak is the only Board Certified surgeon in the D.C., Maryland, Virginia area to offer this innovative, new treatment.
Produced by Kythera Biopharmaceuticals, Kybella was approved by the FDA in April, for the treatment of excess fatty tissue below the jawline. The injectable contains Deoxycholic Acid, a naturally occurring molecule used by the body to rid unwanted fat. Deoxycholic Acid dissolves the outer membrane of fat cells, allowing the body to safely absorb and metabolize the targeted tissue. The final Kybella results include a smooth, sculpted chin.
Kybella injections are performed in one of the Naderi Center's comfortable, private treatment rooms. The procedure takes less than 30 minutes to complete. Depending on the severity of submental fat, each session will consist of up to 50 small injections. Between two and six Kybella sessions, spaced four weeks apart, are required for optimal results.
The benefits seen with Kybella are significant and can be seen after one to two treatments. Once the series of injections is complete, patients will see a youthful contour restored to the chin. Since the deceased fat cells do not reform, the results from Kybella are permanent. There is no need for any maintenance treatments.
Dr. Jessica Kulak, an 'aging face specialist', has committed her practice to the restoration of the aging face through both surgical and noninvasive techniques. She is excited to have the opportunity to add Kybella to her patient's treatment plans. "My practice is dedicated to rejuvenation of the face using minimally invasive, no down-time, in-office (techniques)," Dr. Kulak explains. Kybella fills the need for nonsurgical elimination of the unattractive tissue under the jawline.
Dr. Kulak is a graduate of the prestigious Cornell University, and the University of Miami Miller School of Medicine. She is double Board Certified in plastic surgery of the head and neck by the American Board of Medical Specialties (ABMS) and the American Board of Otolaryngology Head and Neck Surgery. Dr. Kulak is distinguished among her peers for her specialization in restorative procedures of the face and neck. She routinely sees patients from across the United States and around the world.
If you are interested in more information on Kybella, or any of the other rejuvenating procedures offered by Dr. Kulak, contact the Naderi Center at 703.481.0002. For patient convenience, appointments can be made at either the Herndon, Virginia office or the Chevy Chase, Maryland location. For those traveling from outside of the DMV area, the Naderi Center will be happy to assist with driving directions or accommodation reservations.
Contact:
The Naderi Center
297 Herndon Parkway
Suite 101
Herndon, Virginia 20170
703.481.0002
http://www.virginiafacialplasticsurgery.com