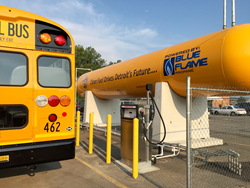 The use of propane autogas school buses is a step in the right direction to significantly decrease vehicle emissions and improve the air quality for our students.
DETROIT (PRWEB) September 03, 2015
Beginning this school year, many Detroit Public Schools students will ride to and from school in cleaner-operating buses fueled by propane autogas. The 35 alternative-fueled Blue Bird Vision Propane buses will lower costs while improving the environment by reducing Detroit's carbon footprint.
This is the largest fleet of propane autogas school buses in the state of Michigan.
"The use of propane autogas school buses is a step in the right direction to significantly decrease vehicle emissions and improve the air quality for our students. This also provides opportunities for students and the community to observe and learn first-hand about alternative transportation technologies," said James Minnick, executive director of DPS Office of Student Transportation. "This environmentally friendly green initiative has also resulted in having a bus fleet that is 30 percent brand new."
ABC Student Transportation, Detroit Public Schools' transportation provider, chose buses fueled by propane autogas because of the buses' advanced technology, environmental benefits, and fuel and maintenance cost reductions, according to ABC Student Transportation president Charlie Grant.
"The adoption of propane autogas buses shows ABC Student Transportation's commitment to implement buses powered by a fuel that is cleaner for Detroit's students and the community, lowers operating costs, and is domestically produced," said Phil Horlock, president and CEO of Blue Bird. "This is a great example of how the city of Detroit is being innovative in everything they do."
The new Blue Bird buses are equipped with an efficient Ford 6.8L V10 engine powered by ROUSH CleanTech propane autogas fuel systems. Historically, propane autogas costs about 50 percent less than diesel per gallon and reduces maintenance costs due to its clean-operating properties. Currently, ABC pays 74 cents per gallon for propane autogas compared with around $3.00 per gallon for diesel.
In addition to fuel cost savings, the 35 propane autogas bus fleet will emit 12,445 fewer pounds of nitrogen oxide and 111 less pounds of particulate matter each year compared with the diesel buses they are replacing. Propane autogas also reduces hydrocarbon emissions and virtually eliminates particulate matter, when compared with conventionally fueled school buses.
To fuel the buses, ABC installed a station with a 12,000-gallon propane tank near its facility on Westwood Street.
"Propane autogas powered school buses offer advanced fuel technology for school districts looking for more efficient operation while experiencing a positive return on investment," said Todd Mouw, vice president of sales and marketing for ROUSH CleanTech.
Propane autogas is the most commonly used alternative fuel in the nation and worldwide. Vehicles fueled by autogas comply with the same safety standards as their conventionally fueled counterparts.
"Together with Blue Bird, Ford and ROUSH CleanTech, we are able to provide world class technology and comfort to our customers at Detroit Public Schools," said Grant.
About Blue Bird Corporation: Blue Bird is the leading independent designer and manufacturer of school buses, with more than 550,000 buses sold since its formation in 1927 and approximately 180,000 buses in operation today. Blue Bird's longevity and reputation in the school bus industry have made it an iconic American brand. Blue Bird distinguishes itself from its principal competitors by its singular focus on the design, engineering, manufacture and sale of school buses and related parts. As the only manufacturer of chassis and body production specifically designed for school bus applications, Blue Bird is recognized as an industry leader for school bus innovation, safety, product quality/reliability/durability, operating costs and drivability. In addition, Blue Bird is the market leader in alternative fuel applications with its propane-powered and compressed natural gas-powered school buses. Blue Bird manufactures school buses at two facilities in Fort Valley, Georgia. Its Micro Bird joint venture operates a manufacturing facility in Drummondville, Quebec, Canada. Service and after-market parts are distributed from Blue Bird's parts distribution center located in Delaware, Ohio.
About Detroit Public Schools: Detroit Public Schools offers Neighborhood-Centered, Quality Schools at 97 campuses with a mission to provide a comprehensive, well-rounded, engaging learning experience. Educational advantages include Individualized Learning Maps for all students, research-driven pre-kindergarten classes to prepare the District's youngest learners, expanded fine and performing arts, music and sports programs at all grade levels, and 21 Community Schools offering extended services to support families. Ongoing advantages include Parent University at the district's eight Parent Resource Centers, enhanced safety initiatives, and DPS-authorized charter schools led by educators with proven track records of raising achievement. In 2015, DPS graduates earned $164 million in grants and scholarships. To learn more, visit detroitk12.org or call 313-240-4DPS.
About ROUSH CleanTech: ROUSH CleanTech, an industry leader of alternative fuel vehicle technology, is a division of ROUSH Enterprises based in Livonia, Mich. ROUSH CleanTech designs, engineers, manufactures and installs propane autogas fuel system technology for light- and medium-duty Ford commercial vehicles, and Type A and Type C Blue Bird school buses. As a Ford QVM-certified alternative fuel vehicle manufacturer, ROUSH CleanTech delivers economical, clean and domestically produced fueling options for fleets across North America. Learn more at ROUSHcleantech.com or by calling 800.59.ROUSH.