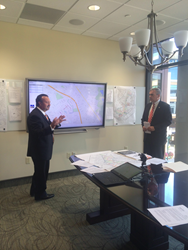 Transfinder software will pay for itself within the first year of operation
Schenectady, New York (PRWEB) August 27, 2015
Transfinder Corp., a national leader in logistics software, has been hired by the City of Schenectady to provide intelligent and responsive routing for fleets handling garbage pickup and snow plowing.
The Transfinder solution, in partnership with Zonar, a leading GPS company, will equip nearly 60 vehicles with GPS devices that will be critical in determining the best fleet routes, reducing fuel consumption, maintenance costs and vehicle replacement, according to Transfinder president and CEO Antonio Civitella.
"Transfinder software will pay for itself within the first year of operation," Civitella said. Transfinder's software is used by more than 1,700 school districts throughout North America and the Caribbean, saving some districts more than $1 million annually. "Transfinder is eager to work with the City of Schenectady, where the company is headquartered, to help the city be even more efficient and have the safest fleet on the road."
The benefits of using Transfinder's solutions include:

Reduced fuel costs
Reduced vehicle repairs
Reduced accidents
Better communication with the public (improved customer service)
The City of Schenectady began looking into adding GPS for its fleets following the 2015 budget process. The Transfinder solution goes beyond GPS, however, promising to improve the safety of the fleets as a result of up-to-date maintenance monitoring, which includes recommending proactive maintenance to avoid costly repairs and substantial down times.
With partner Zonar, the City of Schenectady will have access to real-time checks on key fleet resources to allow for faster action on significant safety items and preventative maintenance, resulting in reduced labor costs as well.
"This is a relationship we are building with Transfinder," Mayor Gary McCarthy said. "We're not buying a predetermined package. This is going to evolve over time and adapt to the needs of the city. As we go through this process, we may get information that will require Transfinder to fine-tune the solution to meet our needs."
Other facts:
Fleets: A single plow truck costs $185,000; a single garbage truck is $191,000. These vehicles consume a significant amount of fuel and presents a great starting point for savings by creating efficient routes and reducing repair costs by. Transfinder's solution in partnership with Zonar, will allow city personnel to analyze work orders by vehicle, sync fuel data with existing fuel vendor, and analyze fuel usage by vehicle.
Intelligent and Responsive Routing: The city will be able to determine the most efficient routes with critical input and partnership from the labor force that is conducting daily operations.
Electronic record keeping: Record keeping will be modernized to allow for better tracking of maintenance cost and provide necessary information to make intelligent fleet management decisions.
Customer service: The number one area for non-public safety calls are related to garbage collection and street plowing. The Transfinder solution will allow for managers to have real-time data and use it to be responsive to public input in the most efficient manner. City staff will be able to give the public an idea if service was delayed or if something is being rerouting through real time data rather than a multiple step process of checking in with supervisors and staff.
About Transfinder
Founded in 1988 and headquartered in Schenectady, New York, Transfinder is a national leader in intelligent transportation systems, providing transportation management systems and services to school districts and adult care facilities. Transfinder, an Inc. magazine "fastest-growing company" for the past nine straight years, offers routing and scheduling solutions for optimal transportation logistics. For more information, visit http://www.transfinder.com.