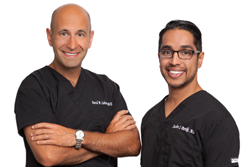 San Francisco, California (PRWEB) September 24, 2015
Though it hasn't been on the market long, patients are already showing significant interest in a new injectable cosmetic known as Kybella™. The San Francisco Bay Area's Lieberman & Parikh Facial Plastic Surgery began offering the treatment in late July, and it's since proven popular with people who want to eliminate their submental fat, more commonly referred to as a double chin.
Medical professionals who want to administer Kybella™ must first receive specific training and gain access to the cosmetic, so it's currently available only from select practices at the forefront of the trend that Town & Country recently explored as possible end of the double chin.
The efficiency that makes Kybella™ such an effective agent of double chin reduction is also why training is imperative for the doctors seeking to offer it. Kybella™ works by destroying fat cells: It disrupts their integrity and causes them to break down. Currently, it's approved only for use in the neck area below the chin, a sensitive region that benefits from an experienced hand and thorough knowledge of anatomy. Kybella™ can destroy other, unintended cells if incorrectly injected, so Amy G. Egan, M.D., M.P.H., deputy director of the Office of Drug Evaluation III in the FDA's Center for Drug Evaluation and Research, said in an announcement that the double chin reduction cosmetic should be provided only by licensed health care professionals.
The active ingredient in Kybella™ is deoxycholic acid, which destroys the membranes that hold fat cells together. The acid is found naturally in the human body, where it helps to metabolize dietary fat. Once released, the submental fat is processed and eliminated.
The results from a Kybella™ session develop gradually, and are noticeable over a span of weeks and months as fat is absorbed and the double chin recedes. Kybella™ doesn't eliminate loose skin, but patients with sufficient elasticity should see their tissues conform appropriately to the newer, sleeker shape. Those who don't can talk to their doctors about a neck lift to address any sagging.
Kybella™ is different from liposuction surgery, which surgically removes fat for an immediate effect. Kybella™ injections, however, require less post-treatment recovery time, making them an option for patients who don't want liposuction or are not good candidates for that procedure.
Ideal Kybella™ candidates have moderate to severe submental fat that persists despite efforts to lose it. Stubborn pockets of fat that create a double chin may remain even as fat is lost elsewhere on the body after dieting and exercise. In such cases, manual removal or destruction of the fat may be the only option for people seeking to make a permanent change.
Many patients achieve the results they're seeking over the course of two to four sessions spaced about a month apart, with roughly 20 to 50 injections per session. People with a significant amount of stubborn submental fat may require six sessions to reduce their double chin to their satisfaction.
The FDA gave Kybella™ manufacturer Kythera Biopharmaceuticals approval to use the cosmetic for double chin reduction on April 29, 2015. During the investigations leading to its approval, the injectable was known as ATX-101.
Want to learn more about Kybella™? San Francisco Bay Area board certified facial plastic surgeons Dr. David Lieberman and Dr. Sachin Parikh and their team can explain in detail how the cosmetic works and assess patients in person to determine how it could work to reduce their submental fullness. For more information, call (650) 327-3232 or set up a consultation.