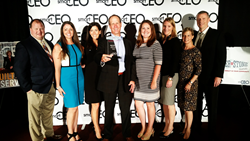 The way our employees rally around our charitable giving is a unique part of our company culture, said Rick Wuest, President and CEO
Washington, DC (PRWEB) August 28, 2015
Washington SmartCEO celebrated companies making a difference in our region at the 2015 Cornerstone Awards, which took place on August 17, 2015 at the Bethesda Marriott. This year's finalists and winners collectively generate more than $1 billion in annual revenue and employ nearly 6,000 individuals. Additionally, the 2015 Cornerstone Award finalists and winners were profiled in the July/August issue of Washington SmartCEO magazine.
Nearly 200 executives and decision-makers attended the high-energy lunch celebration to honor the 2015 Cornerstone Awards finalists and winners and their achievements. The event kicked off with a networking reception, which was followed by a video-packed awards presentation that commemorated each company for their contributions to their local communities and the region at large.
"It's a great honor to be recognized for giving back to our local community in Prince George's County. Thompson Creek's community outreach is all done by the employees who do an excellent job researching opportunities and finding causes that don't just need our financial contribution, but also our time. The way our employees rally around our charitable giving is a unique part of our company culture," said Rick Wuest, President and CEO, Thompson Creek Window Company. "We don't do it to earn the recognition – we do it because it's the right thing to do and it makes our community a better place to live in."
For a complete list of finalists and winners, visit http://www.smartceo.com/washington-cornerstone-awards
About SmartCEO
SmartCEO's mission is to educate and inspire the business community through its award- winning magazine, connections at C-level events and access to valuable online resources. SmartCEO's integrated media platforms reach decision makers in the Baltimore, New York, Philadelphia and Washington, DC, metropolitan areas.
About Thompson Creek
The Thompson Creek Window Company is a privately owned and family-operated manufacturer and installer of energy-efficient home improvement replacement products. Founded in 1980, Thompson Creek Window Company began as a manufacturer of energy-efficient, maintenance-free vinyl windows. Since that time, Thompson Creek Window Company has evolved into one of the leading specialty home improvement contracting companies in the nation. The company's product mix includes replacement windows and doors and a clog-free gutter system. Thompson Creek Window Company is headquartered in Lanham, Maryland and began construction on a new 117,000-square-foot building in Upper Marlboro to house new manufacturing and warehousing operations expected to be completed Spring 2016. Thompson Creek employs over 400 people in the Washington D.C. region.