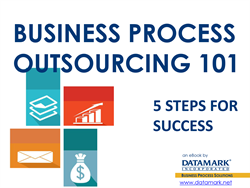 El Paso, Texas (PRWEB) August 29, 2015
DATAMARK, Inc., a leading provider of business process solutions, including outsourced contact center services for Fortune 500 companies and other large enterprises, has released a new video preview of one of its most popular eBooks, "Business Process Outsourcing 101: 5 Steps for Success."
The five-minute video offers viewers a quick overview of the eBook's content, which includes links to additional resources for organizations interested in conducting successful business process outsourcing (BPO) engagements.
Topics include:

What is business process outsourcing? - A glossary of BPO terms
Top reasons to outsource
What processes should you outsource? - A decision matrix
Conducting an outsourcing cost analysis
Best locations for outsourcing
Achieving BPO success
The video is available on DATAMARK's web site at this link:
http://www.datamark.net/resources/videos/ebook-preview-business-process-outsourcing-101
The eBook can be downloaded from the DATAMARK web site at this link:
http://www.datamark.net/uploads/files/bpo_101_ebook.pdf
About DATAMARK
Celebrating its 25th year in business in 2015, DATAMARK, Inc. is a leading business process outsourcing company specializing in high-volume digital mailroom management, document processing/document management, bilingual (English/Spanish) contact centers and process improvement consulting for Fortune 500 companies and other large enterprises.
Headquartered in El Paso, Texas, DATAMARK employs nearly 2,200 people in its U.S., Mexico and India facilities. For more information, visit http://www.datamark.net. Follow industry news and trends at DATAMARK's Outsourcing Insights blog at http://www.datamark.net/blog.