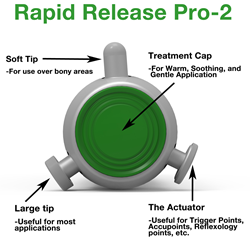 "Rapid Release has been so positively received that I am a big proponent, I recommend it for everybody."
Irvine, CA (PRWEB) August 29, 2015
Dr. Tim Novelli, DC., Founder and President of the Patriot Project, is a man on a mission. His mission is to increase acceptance of the chiropractic field in the military. All too often VA hospitals treat patients with harmful and addictive pain medications that further debilitate them. Although Chiropractic was made available to the VA program over a decade ago, the reality is that only 10% of VA hospitals actually offer Chiropractic. The Patriot Project aims to change that.
With currently 1500 Chiropractors pledging to set aside time to treat one patriot per week, he is 1/4 of his way to his target of 6000. He hopes to reach this target by the end of the the year, but the reality is that is will take much longer. Dr. Novelli has very limited funding and has funded most of this organization out of his pocket. But as word gets out, high profile people and organizations are joining in support. Huge brands like Smuckers, the legendary rocker Ted Nugent, and countless Medal of Honor Recipients are in full support of this endeavor.
Founder Dr. Tim Novelli used to utilize laser technology to treat his patients, but once he found out about Rapid Release Technology, namely their flagship product the Pro-2, he completely abandoned lasers and substituted them with Rapid Release. Dr. Novelli has been quoted to say "what really interests me is that the frequency resonates at the same frequency as scar tissue. Tesla, the great scientist said that if you want to understand the universe, you better start understanding frequencies and wavelengths. They have tuned onto scar tissue and we make the analogy, if you think of an opera singer hitting a note and shattering glass, what this does is break up adhesions and scar tissue in your body that will give you more mobility and relief quicker than anything that we could do with some manipulations even. Like I said, it has been so positively received that I am a big proponent, I recommend it for everybody."
The Patriot Project, supported Rapid Release Technology, is destined to make huge waves in the medical industry in the near future. More and more Chiropractors are signing up everyday, and with the help of some good press, Dr. Tim Novelli should reach his goals sooner than later.