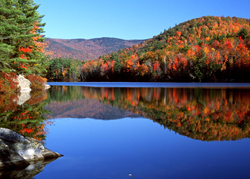 ...the Central New Hampshire region boasts bold reds and crisp yellows amidst an array of stunning views.
Campton, NH (PRWEB) August 28, 2015
Fall is an awe-inspiring season that can be enjoyed hiking a mountainside or kayaking across a lake. In Central New Hampshire, one has the opportunity to do both and more. With the White Mountains to the north and Lakes Region to the south, the Central New Hampshire region boasts bold reds and crisp yellows amidst an array of stunning views. For information on where to stay and for more activities, visit http://centralnh.org/.
1. Sandwich Fair
With roots dating back to 1886, the Sandwich Fair combines traditional agricultural events with an array of quirky twists. Amongst the tractor pulling, livestock shows, and veggie displays is a unique line-up that includes a LEGO competition, garden tractor pulling show, women's skillet toss, and- new this year- a gentleman's keg toss. Join in on the fun Columbus Day weekend, October 10-12, and visit http://www.thesandwichfair.com/index.html for complete event listings and ticket information.
2. Boating at Wellington State Park
Autumn may be too brisk for swimming, but there is still plenty of fun to be had in the Lakes Region. Wellington State Park in Bristol offers a variety of activities, including boating, fishing, and hiking, with kayak rentals available on site.
3. Foliage hikes
New Hampshire is a versatile hiking epicenter with many trails suitable for those new to hiking and those with more experience. To admire the Lakes Region from above, take the 2.5 mile round trip hike to Rattlesnake Mountain, home of popular climbing venue, Rumney Rocks. For views of Newfound Lake, try Sugarloaf. The trail begins across the street from Wellington State Park with the option of a shorter or longer hike. North of Newfound Lake in the Pemi-Waterville Valley region is the Welch-Dickey trail, a 4.5 mile loop with great views of the White Mountains.
4. Squam Lakes Natural Science Center
Learn about our natural world through live exhibits featuring animals native to New Hampshire, including black bears, coyotes, and bobcats. Don't forget to bring binoculars to admire the foliage and wild residents of Squam Lake on a 90-minute lake cruise. Visit http://www.nhnature.org/ for updated program information, ticket pricing, and hours.
5. Polar Caves
Formed as the third continental glacier made its way over the White Mountains about 50,000 years ago, Polar Caves is a fun place to explore anytime of the year, especially during the fall months. Make your way through the nine granite caves and see if you can fit through the Lemon Squeeze! After exploring the caves, become a prospector at the park's Polar Sluice and Klondike Mines. You may strike it rich! For hours, ticket pricing, and additional information, visit http://www.polarcaves.com/.
6. Mountain biking at Waterville Valley
Come winter snowfall, it is home to cross country skiers enjoying the snow capped mountain views, but in the fall, Waterville Valley's Nordic trails offer an adventure filled mountain biking experience while winding through the foliage color. If you're looking for a more leisurely ride, Waterville also offers road bike trails.
7. The Mill Fudge Factory
Enjoy lunch in a historic 1700s gristmill overlooking the foliage of Newfound River. The top place to eat in Bristol on Trip Advisor, The Mill Fudge Factory is also home of NH's Best Grilled Cheese, quesadillas, paninis, fresh customizable salads, and farm to table ravioli. For dessert, try The Mill's homemade ice cream or award winning fudge. To see a complete listing of fudge flavors, or to find hours and directions, visit http://themillfudgefactory.com/.
8. Café Lafayette Dinner Train
All aboard! Enjoy fine dining while chugging through the beautiful foliage colors of Franconia Notch. The Café Lafayette Dinner Train in North Woodstock lends gorgeous views of the foliage capped Western White Mountains, and a gourmet five-course meal to go with it. Visit http://www.cafelafayettedinnertrain.com/ for boarding information.
9. Scenic drives
Looking for a laid back scenic tour along the southern White Mountains and Lakes Region? Start your day with art galleries and shopping in the university town of Plymouth, then follow Route 3 through Ashland and into Holderness. You'll pass Squam Lake, famously known as "Golden Pond." Stop by the Squam Lakes Science Center, number four on our list, then continue on Route 3 to Meredith for some shopping. Finish your tour at Weirs Beach for a ride on the M/S Mount Washington.
10. NH Marathon, Circle Triathlon, Lakes Region Triathlon
With cool temperatures and gorgeous scenery, fall is one of the best seasons to run outdoors. For competitive runners, Central New Hampshire has a few races to choose from:
-"The most beautiful marathon in New England," the New Hampshire Marathon is a tour around Bristol's Newfound Lake. A USATF certified course and a Boston Marathon qualifier, this year's marathon will be held Saturday, Oct. 3. To register, visit http://www.nhmarathon.com/index.html.
-Newfound Lake is also home to the Lakes Region Triathlon. Formerly known as "Moose Man," this event was associated with the World Ironman Corporation. After a brief hiatus, the community banded together to bring a smaller triathlon back to the lake. This year's event will be held Sept. 26 and 27. Visit http://www.lakesregiontriathlon.com/ for additional information.
-The Circle Triathlon in Ashland allows competitors to mix it up every year. With separate courses around Mt. Chocorua and Mt. Morgan, there's even a biathlon and kids' course. To sign up for September 6's event, visit http://www.circletriathlon.org/#!race-options/c1gv9.