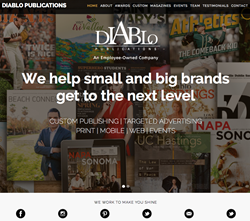 We are a progressive company with strong core values and recognize the importance of constantly innovating, and adapting to new technology and ways of doing business—Barney Fonzi, President, Diablo Publications
Walnut Creek, CA (PRWEB) August 31, 2015
Diablo Publications (DP), a regional and national print and digital marketing communications company announced today that it has officially launched a new website and company identity (diablopublications.com). According to Barney Fonzi, DP President, the new website and brand refresh are more closely aligned with the company's strategic vision for growth and expansion over the next several years, and beyond. Additionally, Fonzi notes that the website reflects the company's recent sale to its employees through an Employee Stock Ownership Plan (ESOP).
"We have been in business for over 35 years by listening to our customers and building one-on-one relationships," Fonzi comments. "We are a progressive company with strong core values and recognize the importance of constantly innovating, and adapting to new technology and ways of doing business. We recognize that hundreds of thousands of consumers have read and utilized our media over the years, but weren't aware of the breadth of our company—and that is now changing."
The new Diablo Publications website is built on an adaptive design platform, offering a clean, modern design; easy-to-navigate functionality; and a content-rich site experience. Because the site was built on the adaptive platform, there are several distinct layouts for multiple screen sizes.
The website offers a complete overview of all the products and services that DP offers, including its city regional publications, national custom media products, digital products and signature events. Users can quickly learn about all of DP's offerings on one scrollable page that easily links to samples of its products and services, and videos of its events. Mobile users can effortlessly thumb through the entire site and readily identify what DP offers.
"Diablopubs.com does not in any way replace the website for our magazine media properties (diablomag.com, napasonomamag.com, diabloweddings.com) or our Diablo Custom Publishing (dcpubs.com) sites that we have been known for throughout the industry," Fonzi says. "Our goal in launching this new website is to provide one more access point and online resource for companies and individuals to learn more about our product solutions and services, and how we can help our clients become more successful with our multiple media and event offerings."
DP has a sizable number of clients, including 30 local and national custom publishing clients for which it produces 118 publications annually. DP's consumer publication division produces seven local titles and publishes 24 magazines annually, in addition to multiple websites, e-newsletters, digital editions of publications, mobile apps, and tablet magazines. Additionally, DP produces three signature events and several custom events for its clients. DP's signature events provide partners the opportunity to reach Diablo's affluent readership, engage the community one-on-one and align themselves with top-tier businesses, while also supporting important charities and the vital services they provide.
About Diablo Publications
For 35 years, Diablo Publications has been creating award-winning publications, including Diablo magazine, Napa Sonoma magazine, Concierge Wine Country, the Diablo City Book Series, Diablo Arts, Diablo Weddings, Concierge East Bay and the Tri-Valley California Visitors Guide. Covering travel, theater, lifestyle and home design, Diablo Publications celebrates the people, places, and pleasures of the East Bay and North Bay. Diablo Publications' custom content division, Diablo Custom Publishing (DCP), provides complete print and online marketing communications and customer publishing services for corporate clients nationwide. For more information, visit diablopublications.com, diablomag.com, napasonomamag.com, diabloweddings.com or dcpubs.com.