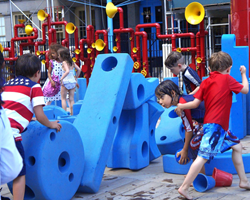 Being able to share the learning benefits of our block play within schools and children's museums through this program, further supports our mission...
New York, New York (PRWEB) September 04, 2015
Imagination Playground, LLC, http://www.imaginationplayground.com, creators of the breakthrough play space concept that encourages child-directed, unstructured free play, announced today the extension of their Build-A-Thon contest through December 18, 2015. The contest winners, over 500 in all, will be announced on January 5, 2016.
The contest was originally scheduled to be concluded on September 7, 2015. However, teachers and schools sent in hundreds of requests asking for an extension, enabling their students to participate this fall and winter. Schools, and other family organizations (museums, parks, discovery and science centers), are holding Build-A-Thon events allowing children the opportunity to build with the Big Blue Blocks and submit photos of their entries for over 500 prizes.
Because many schools are now using the Imagination Playground 3D Builder app within their classroom curriculum, this extension affords the opportunity to build on the app and enter screen shots of their "builds" into the Build-A-Thon contest.
There are two ways to enter the contest. Children between ages 2 and 10 years of age can submit photos of as many physical builds or app screen designs as they like to buildathon(AT)imaginationplayground.com. The Build-A-Thon allows building on Imagination Playground's newly introduced 3D Builder app (available for free download on the iTunes App Store or on Google Play.) Or entrants can physically build with their Imagination Playground Big Blue Blocks at any of their Partners in Play (schools or other local family centers). A photograph of the creation can be forwarded on to enter.
The prizes include a Grand Prize of an all-expense-paid trip to build at the Imagination Playground Park in New York City and a customized 105-piece set of Imagination Playground blocks. There are 1st, 2nd, and 3rd place prizes for both digital and physical builds – over 500 winners in all. Builders can win for themselves or support their favorite organization (school, church, daycare, community center) by nominating them to receive the playground.
"The Build-A-Thon events over the summer were so popular, and rewarding, that we are excited to see the events being held in schools. Our teachers and principals are important to us and we love that they want to provide opportunities for children to build with our blocks – both digitally and physically – and then reward them for their efforts," shared Dave Krishock, President, Imagination Playground.
.
"Being able to share the learning benefits of our block play within schools and children's museums through this program, further supports our mission, and we are delighted to announce the extension," continued Krishock.
Hundreds of Build-A-Thon events are being planned around the country to coincide with the contest. To schedule an event or to find a location to build, reach out to contactus(AT)imaginationplayground.com.
To learn more about how children can enter, contest rules, and locations to build, visit http://www.imaginationplayground.com/build-a-thon.
To download the 3D Builder app on iTunes App Store, visit http://bit.ly/3D-APP.
To download the 3D Builder app on Google Play, visit http://bit.ly/android-3d-app.
About Imagination Playground, LLC
Imagination Playground is a breakthrough play space concept developed to encourage child-directed, creative free play. The kind of play that experts say is critical to children's intellectual, social, physical and emotional development. Created by architect and designer David Rockwell and the Rockwell Group, Imagination Playground enables children to play, dream, build and explore endless possibilities. Imagination Playground finds its home in daycare centers, kindergartens, elementary schools, children's museums – and science, nature, discovery centers, camps, community centers, children's hospitals, hotels, public parks and more – in North America and over 65 countries overseas. For more information, visit http://www.imaginationplayground.com.