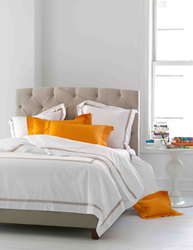 The average person sleeps up to a third of their lifetime. As important as sleep is to one's health, choosing the right furnishings for style and function are factors that play a large role in designing a bedroom. --HVL Interiors
Santa Fe, New Mexico (PRWEB) August 28, 2015
HVL Interiors addresses the top five ways to design a bedroom or sleeping space that will help maximize sleep and rest, including choosing the right bed and linens, lounge areas and tips on storing your favorite bedside reading materials.
The average person logs eight hours of sleep per day, sleeping up to a third of their lifetime. As important as sleep is to one's health and well-being, choosing the right furnishings for both style and function are factors that play a large role in designing a bedroom. It's important to express your signature style, while thinking of care and comfort, and most importantly, loving your bedroom as your sanctuary.
TIP #1: Start with the foundation—find the perfect bed and mattress set up
Bedroom design and choosing a bed in particular is a very personalized and intimate task. Some people want to exude a romantic, airy feeling with bedposts and flowing sheer fabrics, others want a luxurious bedroom with shimmering velvets and silks, while others prefer a clean, neutral space that serves as their retreat at the end of a hectic day.
Like a layered cake, style the bed from bottom to top. Select a bed or headboard to elevate your bedroom to new style heights. A wood or iron poster bed can add visual strength to a room, and an upholstered headboard is an ideal choice when sink-in comfort tops the boudoir wish list. If you crave privacy and a sense of enclosure, wrapping your bed with fabric using canopies, panels or curtains is also another way to bring softness and drama to the room. By choosing neutral palettes in linen, leather or a tweed, one can then use the bed as a canvas for personal style with art, rugs, accessories and bedding acting as accents.
Regardless of your personal style, the mattress and box spring or platform must be of good quality and carefully researched. Whether memory foam or pillow-top, HVL Interiors recommends that the mattress be topped with a cotton or lamb's wool (for cooler months) mattress pad and a gusseted down featherbed over the pad.
TIP #2: Invest in the right bedding
Comfortable bedding can be quite an investment, so doing research to find the best quality and price points available is paramount. While it's true a higher thread count—the number of threads per square inch—can mean better quality, the true test is actually what the bed linens are made from, and your personal "hand" test (the way the fabric feels to the hand). For top-notch sheets that wear well and are luxuriously soft, look for long staple cotton or Belgian organic linen. For cotton, HVL Interiors highly recommends minimum 350 thread-count long staple cotton. HVL Interiors typically designs beds with high-quality cotton sheets, a woven cotton blanket and/ or coverlet topped with a covered duvet with a year-round weight. Brands such as Matouk and Sferra are recommended for the best quality and value. If needed, a gathered or tailored bed skirt is a great opportunity to tie the the rug or floor, the bed and the bedding together with a print, stripe or great texture.
TIP#3: Create a lounging space within the bedroom
While creating the perfect nest with the right bed and bedding is a priority for any good night's sleep, a space for lounging, reading, dressing and hanging out can be equally alluring in the bedroom. A fireplace with a chaise lounge or pair of chairs with a side table can create a cozy reading spot that complements the sleeping area. A good reading lamp and luxurious feeling rug underfoot allow for your complete relaxation and enjoyment.
TIP #4: Don't worry about making everything match: lighting and bedside organization
As in fashion, accessories add the special touches to complete and warm up the room. There's no rule that says bedside tables or lamps must be copies of each other. Avid readers will want to make sure that bedside tables have drawers to help keep books from stacking up as well as ample lighting to flank the bed. HVL Interiors recommends wall-mounted lights that don't take up table space and can be pushed out of the way when not reading. Night tables can take many forms- a built-in ledge, an open table, a chest or a found object that may or may not get a top.
TIP #5: Finish the room with personal touches and accessories as well as the right paint color
Punctuate your bedroom design with a footnote such as a vintage trunk or elegant bench to balance the visual presence of your curated bed and provide a place for discarded bedding, pillows or robes. For flexibility, align a duo of ottomans or poufs at the bed's end. The bedroom is a great place for personal photos, favorite works of art and things that relax and inspire. Like the bed itself, a painted finish or wall covering can transform the space, furthering the concept of 'nest'. Soft neutrals such as dove grays, warm whites and light linen tones induce serenity, while deep, rich tones such as indigo, russet or graphite provide grounding, expansiveness and allows anything in front of it to pop.
For media inquiries
Jennifer Hobson-Hinsley
JLH Media
505 603 8643
jennifer(@)jlhmedia(.)com
###
About HVL Interiors: Based in Santa Fe, New Mexico and founded in 2001, award-winning HVL Interiors is led by NM licensed partners Heather Van Luchene, ASID, Steffany Hollingsworth, ASID and Gary Hahs along with a team of disciplined professionals committed to design excellence and exceptional client service. HVL Interiors offers a comprehensive array of design services for luxury residential, boutique hospitality, private education and other specialty sectors. These include turn-key design services from initial concept through completion, as well as consultation and specification only services.