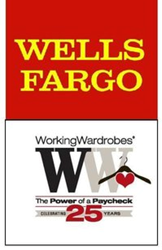 Wells Fargo's ongoing support of Working Wardrobes and VetNet enables our organization to help even more veterans in need.
Costa Mesa, California (PRWEB) August 27, 2015
To show appreciation for the brave men and women who serve in the Armed Forces, Wells Fargo & Company announced today it is partnering with the nonprofit Operation Gratitude on August 29 to host a series of military volunteer events throughout the Pacific Midwest. Hundreds of team members from Alaska, California, Oregon, Washington, Colorado, Minnesota and Iowa will participate in a unique community initiative to prepare, package and donate a total of 13,000 care kits to Operation Gratitude's care package program.
The care packages will be sent to military Troops deployed overseas and to New Recruits upon their graduation from 'Boot Camp' here at home. In addition, throughout the month of August, thousands of Wells Fargo team members will participate in a letter writing campaign to write 30,000 letters of support that will be included in the care packages.
"Troops tell us they use every item in our care packages and cherish the letters written by Americans across the country," said Carolyn Blashek, founder of Operation Gratitude. "This is the perfect way to say 'Thank You' to the courageous members of our Military. We appreciate Wells Fargo's great efforts and generosity in partnering with us."
This Saturday, Wells Fargo volunteers from Orange County, California, will be on hand at Working Wardrobes – a nonprofit that helps people overcoming difficult challenges find meaningful employment and achieve self-sufficiency – to write letters and assemble military care kits for this initiative. Working Wardrobes proudly supports service men and women through its VetNet program, a safety net for veterans that provides job training and placement, housing referrals, and other career services to the nearly 1,400 homeless veterans in Orange County over the past three years. In addition, the organization serves thousands more civilians who are unemployed and underemployed in our area.
"It's an honor for us to partner with Operation Gratitude on such a meaningful cause that benefits US military service men and women around the world," said Jack Toan, Wells Fargo's Vice President and Community Development Manager in Southern California. "This connects directly with the vision and values of our company. Wells Fargo takes great pride in giving back to these heroes who are defending our nation and in supporting our local military communities."
Jerri Rosen, founder and CEO of Working Wardrobes and VetNet, said the support of organizations like Operation Gratitude and Wells Fargo are instrumental in providing our military with the help they so desperately need.
"Active duty military personnel and veterans deserve our respect and support for putting their lives on the line to protect ours," said Rosen. "Wells Fargo's ongoing support of Working Wardrobes and VetNet enables our organization to help even more veterans in need – to find homes, employment, or better paying jobs to support themselves and their families after they return from service. The goals of Wells Fargo and Operation Gratitude align very closely with ours, and we're thrilled they will be on hand at our Career Center this weekend to lend their support for a fantastic cause."
About Working Wardrobes
Working Wardrobes is an independent nonprofit organization that empowers men, women, veterans, and young adults overcoming difficult challenges to confidently enter the workforce and achieve self-sufficiency. The organization provides career training, job placement assistance, and professional wardrobe services in an environment of dignity and respect.
About Operation Gratitude
Operation Gratitude annually sends 150,000+ care packages filled with snacks, entertainment, hygiene and hand-made items, plus personal letters of appreciation, to Veterans, New Recruits, First Responders, Wounded Warriors, Care Givers and to individually named U.S. Service Members deployed overseas. Our mission is to lift the spirits and meet the evolving needs of our Active Duty and Veteran communities, and provide volunteer opportunities for all Americans to express their appreciation to members of our Military. Each package contains donated product valued at $75-100 and costs the organization $15 to assemble and ship. Since its inception in 2003, Operation Gratitude volunteers have shipped more than 1.25 Million Care Packages.
About Wells Fargo
Wells Fargo & Company (NYSE: WFC) is a nationwide, diversified, community-based financial services company with $1.7 trillion in assets. Founded in 1852 and headquartered in San Francisco, Wells Fargo provides banking, insurance, investments, mortgage, and consumer and commercial finance through 8,700 locations, 12,800 ATMs, the internet (wellsfargo.com) and mobile banking, and has offices in 36 countries to support customers who conduct business in the global economy. With approximately 266,000 team members, Wells Fargo serves one in three households in the United States. Wells Fargo & Company was ranked No. 30 on Fortune's 2015 rankings of America's largest corporations. Wells Fargo's vision is to satisfy our customers' financial needs and help them succeed financially. Wells Fargo perspectives are also available at Wells Fargo Blogs and Wells Fargo Stories.