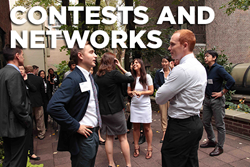 Carnegie Council is one of the world's top creators of nonpartisan educational resources on international ethics used by professionals, journalists, educators, students, and the greater public.
(PRWEB) August 29, 2015
Calling students worldwide who wish to become more involved in the international affairs community. Carnegie Council for Ethics in International Affairs offers a variety of opportunities for students of all levels.
2015 INTERNATIONAL STUDENT PHOTO CONTEST
Submit photos that show examples of climate change OR examples of combating or adapting to climate change. All students of every nationality are eligible. Non-students will be disqualified. The minimum age is 13.
2015 INTERNATIONAL STUDENT/TEACHER ESSAY CONTEST
Propose specific measures for your country (or region or city) to reach one of the following Sustainable Development Goal's objectives in the next 15 years: Achieve gender equality and empower all women and girls: OR Take urgent action to combat climate change and its impacts: OR Make cities and human settlements inclusive, safe, resilient, and sustainable.
JOIN CARNEGIE COUNCIL'S GLOBAL NETWORK
Connect with students, scholars, and professionals on Global Ethics Network, a free online community for people interested in international affairs. post an essay, read and comment on global projects, and make new contacts around the world. Go to http://www.globalethicsnetwork.org
CARNEGIE NEW LEADERS
The mission of the program is to cultivate the next generation of ethical global leaders in business, academia, government, and the nonprofit sector. Through public programming, exclusive social gatherings, and special events featuring prominent speakers, CNL gives young professionals and students the chance to connect with like-minded individuals from various sectors and backgrounds.
STUDENT AMBASSADORS
Are you a current student at a college or university in the New York metro area who is looking to get more involved with Carnegie Council? Student Ambassadors are our campus liaisons that help us connect with students, publicize events, and plan new partnerships.
GLOBAL ETHICS DAY, OCTOBER 16
Carnegie Council invites academic institutions around the world to use this day to hold events, such as lectures, film screenings, debates, panel discussions, or another educational activity to explore the idea of a "global ethic." In the tradition of a "teach-in" model, these events will be run by each institution as it sees fit while being part of a worldwide Global Ethics Day.
To learn more about all these possibilities, go to http://www.carnegiecouncil.org/education/003/studentopps.
Founded by Andrew Carnegie in 1914, Carnegie Council for Ethics in International Affairs is an educational, nonprofit, nonpartisan organization that produces lectures, publications, and multimedia materials on the ethical challenges of living in a globalized world. To learn more, go to http://www.carnegiecouncil.org.