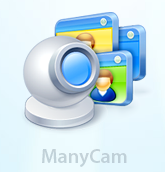 We are pleased that this version of ManyCam provides important enhancements for our users and as technology develops, so will ManyCam, to continuously remain a cutting-edge software solution in the broadcasting space
Brossard, Quebec (PRWEB) August 28, 2015
Visicom Media Inc. has announced the latest Windows release of the popular webcam software, ManyCam 5.0. This version is considered a major update which includes a brand new user interface, several feature enhancements, and more price point options, to better address the market.
The most significant improvements in this version include a completely redesigned interface, which dramatically enhances the user experience and software functionality. Users are now also able to enjoy advanced studio-quality features such as Lower Third and Chroma Key. Lower Third allows broadcasters to add important information in the bottom portion of their production to increase the relevance, while Chroma Key, commonly known as the 'green screen', allows users to appear to be broadcasting from anywhere in the world…or beyond!
ManyCam 5.0 also steps into the realm of security with the new Motion Detection feature. Users can now designate ManyCam as a video monitoring device and receive image notifications via email and SMS when motion is detected by their assigned video sources.
Other major improvements include the wider use of the H.264 video codec, which provides the highest quality broadcasts. Favourite features such as video playlist, layer transformations, picture-in-picture modes, and video effects remain and continue to be enhanced.
ManyCam 5.0 is now available at http://www.manycam.com and visitors will notice that new editions range from the Free Download with limited functionality to a new Standard version, which provides an introductory price point with a basic set of features. The series continues with ManyCam 5.0 Studio, the logical transition for users familiar with the previous Pro version, and finally the Enterprise edition which provides all available features and a broader activation limit on up to 10 devices. A full list of ManyCam 5.0 features and pricing can be found online.
Patrice Carrenard, CEO of Visicom Media, states, "We are proud of the developments achieved with ManyCam 5.0 and we continue striving to provide our loyal ManyCam community with a feature-rich studio-quality broadcast streaming software at affordable prices."
Visicom Media also confirms that future updates of ManyCam are already in progress to include enhanced features and more options aimed at further improving the software. Mr. Carrenard continued, "We are pleased that ManyCam 5.0 provides important enhancements for our users and as technology evolves, ManyCam's development team will work to continuously remain a cutting-edge software solution in the broadcast streaming space."
With over 20 million downloads for both Windows and Mac and over 250,000 registered users, ManyCam is one of the best and most-widely-used broadcast streaming and webcam effects software. ManyCam's free download and full-featured editions, are available at http://www.manycam.com.
About Visicom Media Inc. (http://www.vmn.net)
Established in 1996, Visicom Media Inc. is a leading developer and pioneer of Internet application technologies, helping companies and organizations monetize and drive traffic on the web. Visicom has partnered with some of the largest and most recognized brands in the world for the distribution, development and marketing of their vast array of Internet application solutions.
Visicom Media Inc.
T: 450 672.0401 F: 450.672.9586 304 - 6200 Taschereau, Brossard QC Canada J4W 3J8