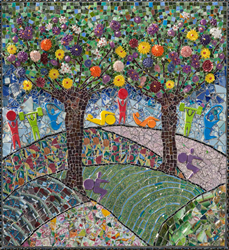 Miami, Florida (PRWEB) August 28, 2015
The Wilson and Juanita Mann Health Center promotes a holistic approach to medicine through health promotion and disease prevention, improving a patient's quality of life through early diagnosis and treatment. The focus is on the most prevalent diseases in the community, including heart disease, cancer, diabetes, HIV/AIDS, STDs, and others. A Women's, Infants & Children (WIC) clinic also provides services to a large portion of the community.
Miami artist, Stephanie Jaffe, created the public art installation, entitled "Grow Your Health". Jaffe was commissioned by the Florida Art in State Buildings Program to design, create & install two mosaic bas-relief artworks on the facade of this new facility. Using bright colors and enduring materials, these mosaic artworks combine natural but stylized forms with playful images of people exercising. Their design reflects the Liberty City Clinic's efforts to promote healthy living and its movement to create community food gardens. The mosaic materials include glass, reclaimed china, and hand-formed glazed ceramic flowers applied to concrete board.
Originally from New York, Stephanie Jaffe's studio practice and artwork subject matter evolved after her move to Miami in the early 1990's. The region's bright hues and sub-tropical climate made mosaics the optimal medium as she began to create larger works of art with a more enduring presence. Many of Jaffe's distinctive artworks are permanently installed throughout Florida. Her recent artwork entitled, "V is for Veterans" located in front of Town Hall in Miami Lakes, Florida was included in the 2014 public Art Year in Review by the Florida Association of Pubic Art Professionals. Her studio is located at The Bakehouse Art Complex in Miami. For more information please visit http://www.stephaniejaffewerner.com
Florida's Art in State Buildings Program
The Art in State Buildings (ASB) Program acquires artwork for new public facilities built with state funds. The program requires that up to .5% of the construction appropriation be set aside to acquire artwork for permanent display in, on or around the facility.
Since the program began in 1979, more than 1,000 works of art have been purchased or commissioned for Florida public spaces. You'll find them in nearly every Florida County, in locations such as state office buildings, Department of Transportation complexes, Department of Health facilities, courthouses, throughout state university and college campuses.