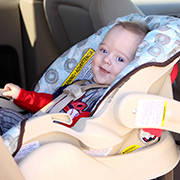 As Baby Safety Month approaches, we are eager to provide our customers with high-quality, waterproof labels to raise awareness of hidden dangers in the home and maybe even save young lives.
Denver, CO. (PRWEB) September 01, 2015
September is Baby Safety Month, and Lightning Labels wants to make sure parents and product manufacturers use safety labels and stickers to keep little ones' safety top of mind at all times.
Sponsored by the Juvenile Products Manufacturers Association, every year Baby Safety Month has a particular focus. According to the JPMA's Baby Safety Zone website, this year's theme is A Room with A Safe View, and the goal is to safeguard babies against hidden hazards found throughout the home.
Go Beyond Babyproofing with Baby Labels
Most parents understand the basics of babyproofing. Once they take care of the essentials - covering electrical outlets, locking cabinets and drawers, softening sharp edges with corner guards and putting baby labels around the house to remind adults to engage in safe behavior - they may think their homes are ready for a tiny resident. Unfortunately, hidden dangers are all around them. The JPMA listed 10 of these virtually invisible hazards, including:

Detergent pods: Detergent pods' bright colors and plasticky packaging make them appear extremely attractive to babies. Youngsters may easily mistake them for candy or toys, but in reality, they contain toxic chemicals that can damage babies' eyes and insides.
Magnets: Magnets tend to be extremely popular with kids, but that doesn't necessarily make them safe. Babies should not be allowed to play with small magnets - or even large ones with small attachments on the back - so adults should be sure to move magnets up to the top of the fridge or remove them altogether.
Tip-overs: Small items present the obvious danger of being swallowed by babies, but parents often don't think twice about large pieces of furniture, writing these off as being too big to cause damage. However, tip-overs present a real threat, especially once babies start to crawl and stand, using the surfaces around them for support. Televisions, bookcases and the like should be secured to walls, floors and ceilings to avoid catastrophe.
Manufacturers and retailers of detergent pods, magnets and large, free-standing household items can do their part for Baby Safety Month by ensuring the products feature clear warning labels to keep parents fully informed.
Use Waterproof Labels to Improve Safety Warning Longevity
Babies grow up fast, but not so fast that the cautionary packaging intended to keep them safe won't still benefit from waterproof labels. With water-resistant labels from Lightning Labels, manufacturers, retailers and parents alike can be confident that stickers containing critical warnings pertaining to babies' safety don't get damaged, rubbed off or ruined as a result of exposure to moisture.
"At Lightning Labels, we pride ourselves on the durability of our stickers and labels," said Scott Proctor, vice president of sales at Lightning Labels. "As Baby Safety Month approaches, we are eager to provide our customers with high-quality, waterproof labels to raise awareness of hidden dangers in the home and maybe even save young lives."
About Lightning Labels:
Lightning Labels uses state-of-the-art printing technology to provide affordable, full-color custom labels and custom stickers of all shapes and sizes. From small orders for individuals to the bulk needs of big businesses, Lightning Labels is equipped to handle and fulfill custom label and sticker projects of all types. Best of all, like the name implies, Lightning Labels provides a quick turnaround for every customer's labeling needs. Uses for Lightning Labels' custom product labels and custom stickers include food packaging and organic food labels, wine and beverage labels, bath and body labels, and nutraceutical products, such as vitamins, essentials oils, and herbal remedies, as well as event stickers, adhesive window stickers and more. Lightning Labels strongly supports the development of environmentally friendly printing materials and carries EarthFirst PLA, a new kind of green label material made from corn instead of petroleum. While operating as a high-tech printer, Lightning Labels prides itself on its personalized customer service. Lightning Labels provides one stop shopping for all of your custom label needs. For more information and to place orders online, visit LightningLabels.com. For the latest in packaging news and labeling promotional offers, find Lightning Labels on Twitter (@LightningLabels), Facebook, Pinterest, Google+ and LinkedIn.