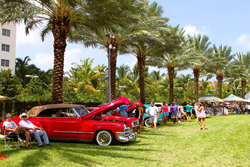 Sunny Isles Beach, Florida (PRWEB) August 28, 2015
Due to the predicted stormy weather, the Car Show and Farmers market scheduled at Heritage Park (19200 Collins Avenue) for Sunday, August 30 is pushed back to Saturday, September 19. The time for the farmers market will change to 4:00 - 7:00 pm so that the event may run consecutively with the SIB Talent Show, also scheduled for that date.
Join the fun as some of the best show cars in South Florida come out and shine in the wide open space of this tree-lined park. Cast a vote for a favorite car and the winning vehicles will split $500 in cash prizes. Shop for a variety of food, including honey, fresh nut spreads, dog biscuits, bread and fine Florida produce. Patrons may also find artwork, jewelry, fashion accessories and crafts from regional vendors. Listen and watch the show as the talented residents of the city perform their acts for a grand prize.
The farmers market is offered quarterly by the City, while the talent show is held once a year. Admission and parking are both complimentary and the venue is open to the public. Park vehicles at the Heritage Park garage or under the William Lehman Causeway. Residents may also hop on the SIB Community Shuttle Bus to and from the event. For additional event information, please contact the Cultural & Community Services Department at 305.792.1706.