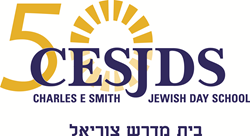 "We are proud of the passion and people who brought CESJDS to this historic moment, and excited about our future."
Rockville, Md. (PRWEB) September 01, 2015
Charles E. Smith Jewish Day School (CESJDS) today opened its doors for the 2015-2016 school year, also marking the kickoff of its year-long 50th anniversary celebration.
What began with one faculty member and seven Kindergarten students has grown into approximately 1,000 students, 250 faculty and staff, and Kindergarten – 12th grades spanning across two campuses. The school will also add a Junior Kindergarten level, Gurim, in 2016.
In 1980, The Jewish Day School of Greater Washington was renamed the Charles E. Smith Jewish Day School to honor the late leader who impacted the school and the Greater Washington community. Charles E. Smith chaired the foundation campaign which raised the funds necessary to build the ten-acre campus that today houses the Lower School. During a convocation, Smith remarked, "We must recognize that none of our Jewish agencies would long survive the deterioration of Jewish education. Conversely, we must recognize that if Jewish education is effective, there is reason to hope that all aspects of Jewish community life, including the State of Israel, will flourish."
"The evolution of our school throughout the decades is inspirational and incredible," said Rabbi Mitchel Malkus, Head of School. "We look forward to celebrating this important milestone in not just the school's history, but in the history of the Jewish day school movement worldwide. Our true vision, as Charlie Smith so beautifully articulated, is to ensure a vibrant Jewish future, which we accomplish through engaging students in an exemplary and inspiring general and Jewish education. The school's fiftieth anniversary is a testament to the dedication of hundreds of former families, teachers, supporters, and friends."
A flag is flying high over the U.S. Capitol building commemorating the anniversary, as part of the AOC's Capitol Flag Program.
50th Anniversary festivities will take place throughout the academic year, culminating in a celebration on May 26, 2016 at the Ronald Reagan Building and International Trade Center.
"When historians study our vibrant Jewish community generations from now, they will see Jewish education as the key link," said Jennifer Mendelson, co-chair of the 50th Anniversary. "We are proud of the passion and people who brought CESJDS to this historic moment, and excited about our future. To honor 50 years of impact in the Capital region, many of our celebratory events are designed to engage the entire community."
Calendar of Events
October 26, 2015
Founders' Day and Head of School Circle 50th Anniversary Kickoff
The year-long celebration kicks off as we honor Dr. Yael Mossé '89, Rabbi Rachel Ain '95, and Stephen Krupin '00. Reception: 6:00-7:30pm. Ceremony: 7:30pm-9:30pm. Annette M. and Theodore N. Lerner Family Upper School Campus
Fall 2015
CESJDS Shabbat at Local Synagogues
The school's 50th Anniversary will be honored at each area synagogue where CESJDS has a presence.
November 20, 2015
50th Day of School
An enriching in-school celebration for students, faculty, and staff.
January 12-13, 2016
Community-wide Social Justice Panel Discussion
We are applying the Jewish values of tikkun olam and social justice outside the classroom as we celebrate Martin Luther King's Birthday with a panel discussion on social change, the Civil Rights Movement, and the impact Jews can make on the wider community in 2016.
March 30, 2016
David Moss Artist-in-Residence Community Event
World-renowned artist David Moss will spend a full week at CESJDS, bringing programming designed for students, faculty/staff, parents, and the wider community. http://www.davidmoss.com.
May 26, 2016
50th Anniversary Celebration
A powerful community celebration that will be emotionally impactful, vibrant, experiential, and inclusive. Ronald Reagan Building and International Trade Center, Washington, D.C.
May 27, 2016
Alumni Reunion and Family Picnic
The 50th Anniversary Memorial Day weekend festivities continue at the Lower School with a picnic for alumni, alumni families, faculty, and staff.
June 16-23, 2016
Intergenerational Family Israel Trip
We are planning a first-ever family trip to Israel, open to all CESJDS families, alumni, alumni parents, and grandparents.
Stay up to date with all the latest CESJDS 50th Anniversary information at http://www.cesjds.org/50thAnniversary.
As our community reflects on and celebrates 50 years of providing Jewish education and academic excellence, we look to the future to ensure CESJDS as a premier Jewish day school for generations to come. The 50th Anniversary "Building Our Future" endowment campaign will provide CESJDS with critical resources to support and strengthen academics and programming, provide increased accessibility for students and families, and further our commitment to Jewish life and continuity. Please contact Sharon Metro Roll at 301.692.4861 or sroll(at)cesjds(dot)org for more information.