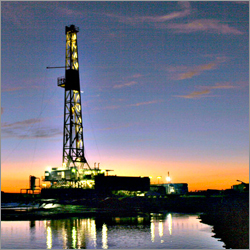 "TEC's input and support were invaluable for helping the project move forward to a successful conclusion." -- Zoltan Tougas, Information Systems Manager at Volant
Montreal, Quebec (PRWEB) August 31, 2015
Enjoying steady growth over the past 15 years, Volant, a North American technology company, realized that its existing IT infrastructure was incapable of supporting any future company growth. As a result, Volant needed to invest in its first integrated enterprise resource planning (ERP) system and was able to successfully do so with the assistance of TEC's software selection experts.
Volant designs, engineers, and manufactures products for the oil drilling industry. Volant had a good idea of the types of features and functionality it required from an ERP and some of the possible options on the market. However, they were unsure how to begin and ensure the success of such a daunting, lengthy process.
At an ERP conference in Atlanta, Georgia, in late 2014, Volant was introduced to TEC and realized that TEC was ideally positioned to support them with a proven, thorough software selection methodology, as well as a suite of resources to help Volant save time, energy, and resources throughout the project.
With TEC's support, Volant was able to make its final ERP selection in a few months with no disruption to its day-to-day operations. Says Zoltan Tougas, Information Systems Manager at Volant, "We were extremely pleased with the entire selection process. TEC's input and support were invaluable for helping the project move forward to a successful conclusion."
With TEC's software selection program, Volant had access to:

TEC's industry-standard RFP template of over 4,000 ERP features and functions.
TEC Advisor, a patented software comparison tool specially designed to create a shortlist of viable software solutions based on the particular requirements of the client.
TEC's client portal, a dedicated online space where the stages of the project were tracked, and where stakeholders were kept informed of the project's progress.
An experienced project manager and selection expert who helped Volant meet their time, resources, and budget requirements for the project and ultimately identify the best-fit ERP solution for their needs.
Visit http://www.technologyevaluation.com/research/case-study/TEC-Case-Study-Midsize-North-American-Manufacturer-Select-Its-First-Integrated-ERP-System.html to read the full case study on Volant's ERP selection project with TEC.
For more information, TEC's software selection programs and services, contact +1 514-954-3665, ext. 404, or e-mail selectionservices(at)technologyevaluation.com.
About Technology Evaluation Centers (TEC)
Technology Evaluation Centers (TEC) is the world's leading provider of software selection resources, services, and research materials, helping organizations evaluate and select the best enterprise software for their needs. With its advanced decision-making process and software selection experts, TEC reduces the time, cost, and risk associated with enterprise software selection.
Over 3.5 million subscribers leverage TEC's extensive research and detailed information on more than 1,000 leading software solutions across all major application areas. TEC is recognized as an industry-leading software selection advisory firm offering resources and services both online and onsite. For more information, please visit http://www.technologyevaluation.com.