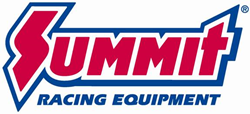 Tallmadge, OH (PRWEB) September 04, 2015
Developed in collaboration with K&N, the inventor of high-flow air filters, AEM Induction Dryflow Air Filters feature a synthetic filter media to deliver power-building airflow like a cotton gauze filter while keeping out more dirt and dust. In fact, AEM says the Dryflow outflows most other filter brands and offers 99.4 percent filtration efficiency. That synthetic filter media does not need oiling, and won't degrade from cleaning like cotton gauze-type filters.
The AEM Induction Dryflow air filter elements use a reinforced internal cage that is lighter and stronger than mesh types, a urethane body that will not shrink or crack, and an integrated velocity stack on the conical style filters to increase the structural rigidity of the filter neck.
The Dryflow air filter elements are available in universal-fit conical and flat versions for custom air intakes, plus direct replacement versions for many popular domestic and import vehicles.
Summit Racing Equipment
http://www.SummitRacing.com
1-800-230-3030