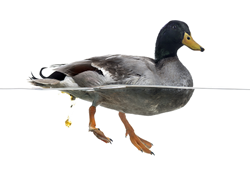 An important fact to note is the risk of avian influenza is far greater during the spring and fall months, when wild birds migrate north and south, putting domestic birds caught in the middle in harm's way.
Chicago, IL (PRWEB) August 28, 2015
The US Department of Agriculture (USDA) lifted the ban on poultry imports from Ontario, Canada on Tuesday, Aug 25 (Reuters), which was set in April 2015 restricting the import of poultry and poultry products. Bird-X, Inc., pest bird control experts for over 50 years, reports on how backyard and commercial poultry producers can continue to protect domestic birds as fall quickly approaches, bringing south migrating likely-infected wild birds.
As explained by Reuters, no new bird flu infections have been found in the United States for at least two months, a positive sign that US poultry farmers may be recovering from the virus.
Many steps have been taken to achieve this, the Reuters article points out. Those farmers with infected birds have slowed the process of restocking barns with domestic stock as a precaution to prevent further spread of the virus. However, fall migration patterns further complicate the matter as possibly-infected ducks, geese, and other wild birds return south for winter.
The Centers for Disease Control and Prevention (CDC) states that when infected birds cast away feces, saliva, and nasal excretions, domestic birds can become infected (cdc.gov). "Fecal-to-oral transmission is the most common mode of spread between birds."
Domesticated birds are frequently infected by wild birds that carry the avian flu, especially waterfowl such as ducks and geese (Bird-X). Therefore, the best way to prevent the virus's transmission to domestic birds is to limit possible exposure.
Prevention is key, according to Donna K. Carver, DVM, PhD, ACPV, who writes for ces.ncsu.edu. The article notes, "Preventing the introduction of A1 into your flock is not difficult to do if you follow some 'common sense' guidelines." These include good hygiene practices when interacting with birds, and general caution when attending bird shows and purchasing new birds.
Dr. Carver continues, "All flocks should be fenced or confined, in order to avoid contact with any wild birds, especially waterfowl." Confining domestic flocks is perhaps the most difficult precaution to take due to the nature of birds, especially for free range and backyard flocks.
Bird-X products are not only effective at keeping wild birds away, but also work well for keeping domestic birds inside a contained area. As explained on the Residential and Commercial Flocks page, the best bird control products to use with domestic birds are those that will not irritate the captive birds.
The page states, "Avoid electronic bird control, since these systems will irritate domestic birds as well as wild." This means sticking to mostly physical and physical exclusion methods for repelling unwanted birds.
The page continues to explain that bird netting is likely the most useful product, since it will enclose chickens and other birds while also sealing out wild birds. Since wild birds commonly perch, roost, and nest on top of chicken coops, treating any beams above the top of the cage is critical. Wild birds that are allowed to land will defecate into the enclosure, exposing domestic birds to feces that can carry the virus. Bird Spikes or another physical deterrent will work extremely well for this purpose.
The conclusion of Dr. Carver's article summarizes that the physical protection (confining) of domestic flocks, in addition to general 'common sense' practices, are an investment in protecting domestic birds from the avian influenza virus; as well as all bacteria and potential illnesses. "Whether you are involved with poultry on a large scale or small scale," Dr. Carver states, "loss of your birds and expense of cleaning your premises due to Avian Influenza will affect YOUR BOTTOM LINE." By taking every precaution, poultry keepers can greatly reduce their flock's risk of exposure.
As the Bird-X page states, "An important fact to note is the risk of avian influenza is far greater during the spring and fall months, when wild birds migrate north and south, putting domestic birds caught in the middle in harm's way."
Bird-X, Inc. has spent over 50 years as the leading international brand of bird and pest control products and is dedicated to protecting the health of humans, wildlife, and the environment in which we all live. The Chicago-based company manufactures a complete line of unique pest control products with an unmatched focus on quality and efficacy. The standard in residential and commercial applications, Bird-X has creative solutions to meet any budget or situation.