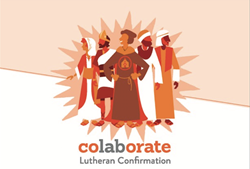 Each lesson in Colaborate presents students with a compelling problem, and that allows them to grapple with what they believe and why they believe it. - Carla Barnhill, Director of Youth Development at sparkhouse
Minneapolis, MN (PRWEB) August 31, 2015
sparkhouse is pleased to announce the full release of its all-new curriculum, Colaborate: Lutheran Confirmation. Colaborate: Lutheran Confirmation released in its entirety on August 14, 2015, and includes Student Handbooks, Leader Guides, and videos for each of the 4 units—Old Testament, New Testament, Lutheran History & Catechism, and Lutheran Living. Additionally, sparkhouse has developed the Colaborate Lutheran Student Bible to accompany the Colaborate: Lutheran Confirmation curriculum.
Colaborate: Lutheran Confirmation curriculum uses problem-based learning, highly visual infographics, and entertaining videos to unpack and engage students' assumptions and past knowledge about the Bible, Lutheran history, and the Small Catechism.
"Each lesson in Colaborate presents students with a compelling problem, and that allows them to grapple with what they believe and why they believe it," says Carla Barnhill, Director of Youth Development at sparkhouse. The curriculum challenges, engages, and encourages students as they take this major step in the journey of faith.
Each Student Handbook ($7.99/unit) contains fifteen lessons that guide students through a process of discovery with intriguing questions, in-depth theological information, and punchy infographics. The Leader Guide ($29.99/unit), created by a team of experienced theologians and youth practitioners, is comprised of Bible verses, theological and historical background, as well as practical support to guide each lesson. The DVD ($29.99/unit) includes short videos that use humor, and even a little exaggeration, to tease out the problem statement of each lesson. The Colaborate Lutheran Student Bible ($24.99) features interactive graphics, interesting and informative facts, and insightful commentary written specifically for Lutheran teenagers. As a key component of the curriculum, this NRSV Bible adds value to classroom conversation with highlighted key verses, additional questions, and activities.
About sparkhouse
At sparkhouse, we're creating a whole new class of faith formation resources created for today's Christians: innovative Bibles, books, video, curricula, and workshops for children, youth, and adults.
We meet people where they are: using technology, language, and active learning concepts that match our 21st-century lifestyles – whether in the church or at home. Every day we strive to make creativity, collaboration, and even humor synonymous with thought-provoking, Bible-based learning.
Find details about Colaborate: Lutheran Confirmation and other sparkhouse products at: http://www.wearesparkhouse.org.