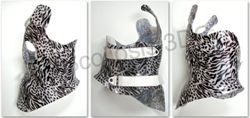 When it comes to scoliosis, concluding brace treatment too early is just as detrimental as starting brace treatment late.
Boston, MA (PRWEB) August 31, 2015
As adolescents head back to school this week, many will undergo school screenings and some will be diagnosed with scoliosis. Every year, an estimated 30,000 children are fit with a scoliosis brace. Bracing is currently one of the most common treatments for scoliosis that, when appropriately planned and managed, can be very effective at halting curve progression. However, mismanagement regarding brace treatment can have a negative effect on outcome.To prepare parents of newly diagnosed scoliosis patients, Dr. Marc Moramarco of Scoliosis 3DC℠ offers bracing tips and guidelines.
1. Bracing for scoliosis is most successful when initiated prior to the major growth spurt and continued until skeletal maturity.
Waiting too long to brace scoliosis often leads to unnecessary curve progression and reduces the opportunity to affect change. In other words, the lower the Cobb angle is at the start of bracing, the better. This isn't to say that all cases of mild scoliosis must be braced, but when a child is young and has tremendous potential for growth, bracing should be started earlier rather than later. Delaying scoliosis bracing puts a child at unnecessary risk for progression when certain other factors are considered.
Conversely, weaning from a brace too soon can also result in lost gains in the battle against scoliosis. Wearing a brace to skeletal maturity is extremely important. Too many times, parents of patients have called the Scoliosis 3DC℠ office after physicians have recommended brace weaning but then report that their child experienced residual progression. Although a Risser 5 indicates skeletal maturity, there are cases where residual growth can still occur. For this reason, it is imperative to see bracing through until the end of growth.
2. The right brace makes a difference. 
There are a variety of scoliosis braces available. Some of the most progressive and advanced braces come from Europe where asymmetric designs are now used for a better bracing result. Asymmetric braces are geared towards three-dimensional curve management with some offering openings for de-rotational breathing and strategic design to untwist the spinal vertebrae and improve the sagittal profile. Unlike their American counterparts, these European braces are also made for curves in excess of 40º - 45º. This is important to be aware of when an adolescent is at the threshold for scoliosis surgery and seeking alternative options.
3. Compliance is key.
Until the release of the BrAIST study in 2013, physicians were divided on the topic of scoliosis bracing. The majority prescribed bracing (up into the 40º Cobb angle range) to try and control scoliosis but there was a fraction who didn't prescribe bracing. For the most part, the BrAIST study put the scoliosis bracing debate to rest. The study looked at the Boston Brace, a symmetric, rigid orthosis that uses compressive forces to prevent scoliosis from progressing during growth. The study found that bracing is effective when patients are compliant. During growth, it is crucial that patients wear their brace for the prescribed amount of time (typically 18-22 hours a day). As bracing advances, new designs such as the Gensingen brace® offer lighter and less material which translates to a more tolerable brace that may allow for improved compliance.
Dr. Marc Moramarco first introduced the European, Chêneau-Gensingen Brace® in the United States in 2013 to offer patients the most effective conservative treatment protocol available internationally.