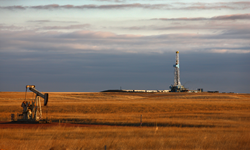 (PRWEB) September 30, 2015
FIG Tree Capital Ventures (FIG), a Texas-based Oil and Gas investment firm, with projects in The Williston Basin (Bakken/Three Forks Shale) of North Dakota, The Woodbine Formation of South East Texas, The Cotton Valley/Bossier Haynesville of East Texas, and The Edwards Lime of Central Texas, announces a newly completed well with record setting initial production for FIG and Whiting Petroleum (WLL). The well reached an initial 24 hour production rate of 4,300 barrels of oil equivalent (BOE), which is a company record for FIG and a county record for Whiting. The well, has produced in excess of 27,000 bbls of oil and 23,000 mcf from the Middle Bakken formation in the first 12 days of production. It is one of 4 new wells drilled from a single pad in the Skunk Creek Development. The other three wells on the pad have had initial 24 hour production rates ranging from 2,290 bbls – 3,106 bbls per day and 2,445 mcf – 2,900 mcf per day. The Fund purchased the Skunk Creek properties in January 2015 as part of the company's ongoing strategy to purchase existing production, and proven acreage for future development, in high EUR (estimated ultimate recovery) areas while acquisition costs remain very low due to oil prices.
"We believed this property fit our strategic acquisition model and obviously the result speaks for itself, according to Ryan Wright, the company Chief Executive Officer. "Buying low and selling high is an obvious goal with any investment. With oil prices at 6 year lows it makes sense that companies like us with investable capital are buying now in order to position themselves for the future oil price increases." There are a large number of interest owners around the country that are simply being forced to liquidate premier assets to satisfy capital needs which is why this oil price environment bodes well for our Funds."
FIG is actively seeking non-operating interest owners looking to divest of proven and producing property in the Bakken Shale, the Permian Basin, and the Eagleford. According to management, the company plans to continue this strategy into the future.
"Richard Main, the company President had this to say, "The next 6-18 months are shaping up to be a very advantageous time for us regarding acquisitions. As the low oil prices continue to force sell offs, well financed companies are in a position to pick up the pieces at pennies on the dollar. http://www.figtreecapitalventures.com/news/the-smart-money-is-investing-in-oil-now/ Using today's price environment as the matrix for acquisitions, gives us the ability to realize solid returns on purchases of existing production and ongoing development in these areas right now. In addition, we gain tremendous upside potential on the development of proven reserves for the future when prices rebound."
About the Company
FIG Tree Capital Ventures is a venture capital firm in Texas that specializes in offering accredited investors investments in Energy, Real Estate, and Technology that are focused on revenue generation, asset appreciation, and tax benefits.
Qualified investors that want to learn more, and those looking to sell non-operating interest can contact FIG at (866-894-7309) or email us at invest(at)figtreecv(dot)com or visit http://www.figtreecapitalventures.com.