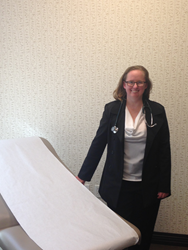 Offering access to expert care providers empowers our residents to get the care they need, when they need it, right in the comfort and convenience of our community.
SEATTLE (PRWEB) August 31, 2015
UW Neighborhood Clinics and Era Living are working together to expand medical care options for residents of Era Living's senior living communities through a pilot program at Aljoya Thornton Place in North Seattle. UW Neighborhood Clinics Nurse Practitioner, Dr. Emily Hilderman, D.N.P., A.R.N.P., is on-site in the Aljoya Wellness Center twice per week to provide routine care, allowing for fewer trips to external medical clinics and reducing wait times for routine care needs.
Residents can access the UW Neighborhood Clinics location at Aljoya for help with allergies, colds, coughs, sore throats, sinus infections, flu symptoms and stomach irritations, skin problems including rashes, cuts and bruises, pink eye, and wound care. Additionally, monitoring of blood pressure, and diabetes as well as lab tests for strep, blood glucose, and infections of the urinary tract are available.
"Our goal is to make care more convenient for seniors," says Hilderman. "Offering routine care on-site at Aljoya can vastly reduce wait times for clinical access, and allow people to get the care they need without stress, or trips to urgent care centers for relatively routine needs."
Upon completion of on-site clinical visits, Dr. Hilderman and/or other on-site nurse practitioners communicate information to each resident's primary care provider ensuring best practices and allowing for streamlined follow up of care as needed.
"Offering access to expert care providers empowers our residents to get the care they need, when they need it, right in the comfort and convenience of our community," says Aljoya Thornton Place Executive Director, Karen Nordby.
As care is delivered at Aljoya Thornton Place, UW Neighborhood Clinics and Era Living will monitor results together and consider service expansion at Aljoya and Era Living's other communities. Era Living offers eight premier senior living communities throughout the Seattle area. UW Medicine has more than 200 primary and specialty care clinics in the state.
About UW Medicine
With a mission to improve the health of the public, UW Medicine provides primary and specialty care to patients throughout the Pacific Northwest, trains medical professionals and scientists, and conducts biomedical and health services research.
Our system includes Harborview Medical Center, Northwest Hospital & Medical Center, Valley Medical Center, UW Medical Center, UW Neighborhood Clinics, UW Physicians, UW School of Medicine and Airlift Northwest.
Every year, our four hospitals manage more than 65,000 patient admissions and nearly 200,000 emergency visits, while our clinics manage more than 1.6 million patient visits. UW Medicine's 2,100 faculty and more than 6,000 volunteer and part-time clinical faculty include four Nobel Laureates, 32 members of the National Academy of Sciences and 33 members of the Institute of Medicine.
U.S. News & World Report has ranked UW's School of Medicine No. 1 in the nation in primary-care training for the past 18 years. The school is the top public recipient of biomedical research funding from the National Institutes of Health and second in NIH funding among all medical schools, public and private.
UW Medicine is affiliated with Seattle Children's, Fred Hutchinson Cancer Research Center, the Veteran's Affairs Healthcare System in Seattle, and the Boise VA Medical Center in Boise, Idaho. We share in the ownership and governance of the Seattle Cancer Care Alliance and Children's University Medical Group. Visit http://uwmedicine.org for details.
About Era Living
Since 1987, Era Living has been dedicated to fostering a healthy and engaging environment of life long learning, whole body wellness, cultural enrichment and social fulfillment for older adults at all eight of its Seattle area communities.
The Era Living communities are Aljoya Mercer Island, Aljoya Thornton Place, Ida Culver House Broadview, Ida Culver House Ravenna, The Gardens at Town Square, The Lakeshore, University House Issaquah, and University House Wallingford. More information at http://www.eraliving.com.