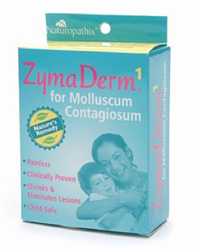 Purchasing at a local Walgreens store, the largest drug retailing chain in the USA, makes it especially easy and convenient for parents to get ZymaDerm™ without prescription to quickly stop molluscum, and keep it from infecting other children
Boise, ID (PRWEB) September 01, 2015
Naturopathix, Inc. announces a $10 mail-in rebate for in-store Walgreens purchases of ZymaDerm™, the most widely used, gentle and effective treatment for molluscum contagiosum.
"Purchasing at a local Walgreens store, the largest drug retailing chain in the USA," says Briant Burke, MD, MS creator of ZymaDerm™ and Naturopathix's medical director, "makes it especially easy and convenient for parents to get ZymaDerm™ without prescription to quickly stop molluscum contagiosum, and keep it from infecting other children."
Molluscum contagiosum is a common childhood viral skin disease of highly contagious, unsightly warty lesions. It can cover extensive areas of the body and spread to the face. Each year it infects almost 2.5 million children in the US. It's caused by the MCV virus that is easily spread by direct skin-to-skin contact and persists for many months to up to 5 years.
"Although the condition is not life threatening, it causes embarrassment and self-consciousness in children at a time when acceptance from their peers is paramount," continues Dr. Burke. "Because it is so contagious, infected children should be quarantined from playmates."
ZymaDerm™ is the most widely used safe, painless, and rapid treatment to make molluscum simply vanish, especially in children. Since its introduction in 2003, it has enabled close to a million people to quickly be rid of molluscum contagiosum. It's a simple and effective all natural dab on preparation that avoids expensive, painful and most always ineffective treatments."
While molluscum occurs primarily in young children, it is now becoming epidemic amongst adults as well. ZymaDerm™ is as effective for adults as it is for children. It may be safely be used on all body areas including the face and private areas.
Many leading dermatology clinics and pediatricians have replaced, or are replacing, invasive and often painful treatments with this gentle, effective, natural molluscum treatment for their patients with molluscum contagiosum.
The rebate is good for Walgreens in-store purchases of ZymaDerm™ made through November 30, 2015. It is not valid for online purchases.
ABOUT ZYMADERM™
ZymaDerm™ is a patented blend of powerful all natural anti-viral plant-based compounds that transforms the treatment of molluscum contagiosum from expensive and often painful procedures, such as freezing, burning, or surgical removal of the lesions, to simply dabbing on a pleasant aromatic blend twice a day, usually for less than a month, until the lesions completely vanish. It is FDA approved as a homeopathic drug. Its ingredients are officially included in the Homeopathic Pharmacopeia of the United States as useful agents. The potency and level of purity of the ingredients in ZymaDerm™ meet the most stringent standards of excellence. It's website is http://www.Naturopathix.com
ABOUT NATUROPATHIX
Naturopathix, Inc. was founded in 2002 to develop novel plant based therapeutic treatments for the relief of common medical conditions. The company is led by Briant Burke, MD, MS, a practicing physician and distinguished medical research scientist with over 30 years of clinical experience treating patients and publishing clinical trials. It's website is http://www.Naturopathix.com.