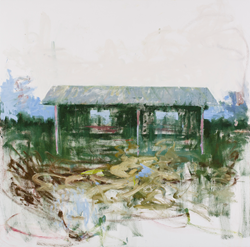 Santa Fe, NM (PRWEB) August 27, 2015
David Richard Gallery will present its first exhibition of contemporary abstract landscape paintings by Portland-based artist Stephen Hayes. The paintings, ranging in size from 30 inches square to 40 x 60 inches and 60 inches square, will be presented September 25 through November 7, 2015. There will be an opening reception with the artist on Friday, September 25 from 5:00 to 7:00 PM. Hayes will be interviewed by "ArtBeat Radio" host Kathryn M. Davis on Thursday, September 24 from 12 noon to 12:30 PM on KVSF 101.5 FM, The Voice of Santa Fe. The gallery is located at 544 South Guadalupe Street, Santa Fe, New Mexico 87501, phone 505-983-9555 in the Santa Fe Railyard Arts District.
Stephen Hayes' paintings come out of the tradition of nineteenth-century landscape painting. He captures the awe and wonder of the American landscape, but with a more contemporary approach. His palette is inspired by Impressionism, the bold brush strokes evoke gestural abstraction and expressionism, while the lyrical rhythms flow out of post-painterly abstraction. Hayes paints "en plein air" as well as from film stills in the studio, thus adding a very contemporary medium and approach to his repertoire. His picture making practice allows him to straddle representation and abstraction. By not relying solely on a near-photographic realist representation of the landscape, he can go with his intuition and knowledge of the landscape—his experience in and of the landscape—to guide a certain spontaneity and interpretation. As such, his paintings capture more than a single moment in time or particular view. They read more as a layered montage of different points in time, with the sun and clouds at different angles and positions that affect the light and hues as well as the artist's view—essentially, a time lapse collapsed into a single painting. This approach keeps his paintings fresh, less in a single moment and more experiential.
Hayes was born in Washington, D.C. and studied at the University of Wisconsin in Madison. His artworks have been the subject of more than 32 solo exhibitions since 1983 and included in numerous group exhibitions in the US and internationally, including Portland, OR; Seattle, WA; New York, NY; Washington, D.C.; Tucson, AZ; Lakeville, CT; London, UK; Kyoto, Sapporo and Nagoya, Japan; and Amman, Jordan among other cities. Hayes' artworks are in many public and private collections in the US and internationally including The Gates Foundation, Portland Art Museum, The New York Public Library, Hallie Ford Museum, Centrum voor Grafiek Frans Masereel, Belgium, and Microsoft Corporation among others. Hayes teaches at Oregon State University and lives in Portland, OR.
David Richard Gallery, a contemporary art gallery, has produced museum quality exhibitions that feature Post War abstraction in the US. The presentations have addressed specific decades, geographies as well as certain movements and tendencies from the 1960s through 1980s. The gallery has produced retrospective group and solo exhibitions, which have included renown figures such as Richard Anuszkiewicz, Wall Batterton, Billy Al Bengston, Leon Berkowitz, Judy Chicago, Beverly Fishman, Tom Green, Tom Holland, Ward Jackson, Paul Reed, Roland Reiss, Oli Sihvonen, Julian Stanczak, Tadasky, and Sanford Wurmfeld. While the David Richard Gallery has long been recognized as an important proponent of post-1960s abstraction - including both the influential pioneers as well as a younger generation of practitioners in this field - in keeping with this spirit of nurture and development the gallery presents established and very new artists whose approaches to the making of art embrace more gestural and contemporary figurative art.