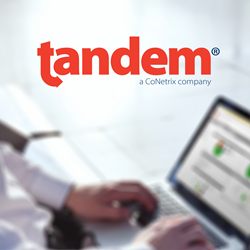 Lubbock, TX (PRWEB) August 28, 2015
CoNetrix is excited to announce the setup of their 1,000th institution, earlier this week, in their tandem security and compliance software.
"This is a great milestone for our company," said CoNetrix president, Russ Horn. "I am extremely proud of our team, not just for creating and providing services for more than 1,000 institutions, but for the exceptional quality of our products, services and support."
Horn went on to say the recent launch of the tandem cybersecurity assessment module helped propel CoNetrix over the 1,000 installation mark. The cybersecurity assessment module, launched in July, is currently only available in a free version to financial institutions like banks and credit unions, but will eventually be released in a pro version as well.
About tandem Security and Compliance Software: tandem was the first comprehensive online Information Security Program software solution designed to help financial institutions create and maintain a complete program to comply with GLBA and the Interagency Guidelines Establishing Information Security Standards. While tandem was designed as a complete solution from the ground up, it was fashioned into modules which allow for versatility. The modules include risk assessment, policies, vendor management, business continuity plan, identity theft prevention program, internet banking security program, audit management, social media management, and the newest module, cybersecurity assessment.
About CoNetrix: CoNetrix is a full-service technology consulting, security and compliance firm with roots dating back to 1977. Founded in Lubbock, Texas, CoNetrix now serves customers across the U.S., providing a variety of technology and security solutions, including online security and compliance software, IT audits, security vulnerability testing, risk management, technology consulting, cloud hosting, and managed services. Security is designed into all of its offerings, from its software to its consulting services. CoNetrix specifically serves financial institutions – such as banks, savings associations, credit unions, and trust companies – as well as enterprises requiring a high level of security in their operations.