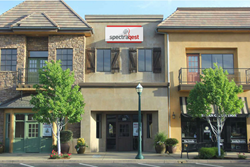 (PRWEB) August 28, 2015
Spectra QEST announces that due to unprecedented demand for its products and services in North America, and the resulting growth in the company's employee numbers, a larger premises has been secured in El Dorado Hills, California
The new offices are located on Town Center Boulevard in the commercial center of El Dorado Hills. The new location provides both a convenient location for customers to drop in and a pleasant working environment for the growing company.
Over the course of a short eighteen months, Spectra QEST's US subsidiary has increased from one to six staff members. The new larger premises will provide a professional base for Spectra QEST America Corp. to continue to expand as it services an ever growing customer base.
Spectra QEST America Corp.'s new address is:
4357 Town Center Boulevard, Suite 216
El Dorado Hills CA 95762
Please note that all mail correspondence should continue to be sent to the postal address, which remains unchanged:
340 S Lemon Avenue, Unit 7132
Walnut CA 91789
Spectra QEST's head office remains in North Adelaide, Australia.
About Spectra QEST
Spectra QEST is a software development and services company specializing in solutions for the construction materials engineering, testing, inspection and production industries. Founded in January 1984, Spectra QEST offers the most comprehensive construction materials quality platform on the market today. With offices located in Adelaide, South Australia, and Sacramento, California, it services customers in North America, Europe, Australasia and the Middle East. These customers include leading international construction companies, construction materials and geotechnical engineering companies, construction materials manufacturers, and government bodies.
Spectra QEST's technology has been honored with an American Council of Engineering Companies (ACEC) Gold Medal for Engineering Excellence (Texas) and an ACEC National Recognition Award for the QESTField product. Also, Spectra QEST was successful in winning Australia's premier IT industry award, the 2013 iAwards, both at State and National levels. Spectra QEST also won the Business SA 2013 Export Award.