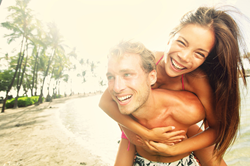 (PRWEB) August 30, 2015
Popular interracial dating platform Interracialspark.com recently launched its mobile site. It is believed that the site plans to target the increasing number of users who wish to stay connected while on the go. The site primarily emphasizes on connecting white men and black women from the globe.
The smartphone revolution that began in 2008 with the launch of Apple's iPhone has allowed internet usage to grow in leaps and bounds. According to the recent trends, 92 percent of global data traffic is contributed by cellular devices. In fact, statistics have shown that over 50 percent of the Smartphone users are active on their devices.
At the launch event, Chief Operating Officer of Interracialspark.com said, "The Smartphone segment has opened up a plethora of opportunities for businesses. It provides an uninterrupted medium for us to keep in touch with our customers, while allowing them to connect with a prospective date. The launch of a mobile site will not only make it convenient for users, but also allow them to keep a tab on all the recent happenings in the online dating industry."
Many online interracial dating sites have launched the mobile version of their websites earlier this year and the trend is soon catching up. Experts believe that the ongoing price war between smartphone manufacturers and network providers have made it easier for people to afford an internet-enabled cellular device. This allows users to stay connected all the time and from any corner of the world.
Andy, the lead engineer of the Interracialspark.com said, "It is so difficult to modify something that is already so good. However, I took this as a challenge. We reengineered every aspect of the site so that it could be accommodated on the mobile version. Every feature on the mobile site is same as that on the desktop version. For those who have already been using the desktop site, using the scaled down version shouldn't be a problem."
Interracialspark.com, which started its global operations in 2014, is a popular name in the interracial dating segment. The site specializes in connecting people who are looking for an interracial relationship. The key features on the platform include email, instant messaging, blogs and forums, among others. In addition, users can take assistance of a dating counselor and check out dating tips too.