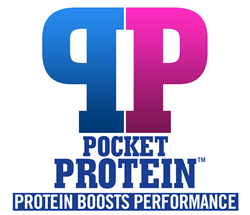 We spent years working on a formula that tastes great without added fat, carbs, sugar, gluten, lactose or caffeine.
(PRWEB) August 28, 2015
Saint Petersburg, FL —Pocket Protein™, a protein beverage that delivers 20 grams of high grade protein with zero fat, carbs, sugar, gluten, lactose or caffeine in a convenient 2 oz. pouch that never needs refrigeration, has been named a finalist for the 2015 SupplySide CPG Editor's Choice Awards.
Five consumer packaged goods (CPG) products were selected by the SupplySide editorial team for achievements in innovation and market impact in 18 different categories. Pocket Protein, co-developed by MTV's Mark Long of Road Rules fame, was named to the short list in the Specialty Supplement/Food category.
One winner in each category will be announced at SupplySide West 2015 during the SupplySide CPG Editor's Choice Awards Presentations, set for October 7 and 8 at the Mandalay Bay Resort in Las Vegas, Nevada.
"We are honored to be recognized by SupplySide as one of the most innovative products of the year," said Pocket Protein co-founder and MTV Celebrity Mark Long. "We set out to deliver a shelf-stable protein drink that suits your needs whether you are looking for protein immediately after a good workout, as part of a weight loss program or as a simple pick me up in during the day. We spent years working on a formula that tastes great without added fat, carbs, sugar, gluten, lactose, or caffeine. We are really proud of the results, and of this great honor from SupplySide."
Pocket Protein is available in 2 oz. foil packs offering the option of 15 or 20 grams of liquid protein. Pocket Protein is an easy on the go option that can be popped into a glove box, purse or gym bag without need for refrigeration. It is available at select retailers across the country and on http://www.pocketprotein.com.
For more almost 20 years, SupplySide has helped dietary supplement, food, beverage, personal care and cosmetic professionals find information to explore, discover, innovate and market their next best-selling product.
"In the past few years we've had tremendous success highlighting the products that are coming to market, driven by the innovative ingredients highlighted at SupplySide," said Heather Granato, vice president, content, in Informa's Health & Nutrition Network. "In considering hundreds of products, our team narrowed the field based on the unique positioning and ability to serve consumers with truly cutting-edge products."
To learn more about Pocket Protein, visit http://www.pocketprotein.com. Retailers may contact Pocket Protein CEO Anne Zink at (727) 465-4810.
About SupplySide West: Hosted by Informa Exhibitions, this annual tradeshow and educational forum is the finished product manufacturer's gathering place for top performers, trends, scientific advances and networking. SupplySide West is all about the exploration, discovery, innovation and marketing strategy around the development of finished consumer goods that drive the global business economy. The 2015 show will be held October 5-9 at Mandalay Bay in Las Vegas. For more information visit http://www.supplysideshow.com.