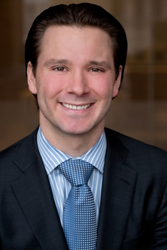 We hope this verdict serves as a reminder to companies to ensure employees receive proper training and resources
Chicago, IL (PRWEB) August 28, 2015
Patrick A. Salvi II, Patrick A. Salvi, Jeffrey J. Kroll and Aaron D. Boeder of the law firm Salvi, Schostok & Pritchard P.C. of Chicago, IL obtained a $15.2 million verdict on behalf of a man who was seriously injured when he was struck and run over by a forklift at McCormick Place convention center in Chicago, Illinois. The trial began on August 4, 2015. The verdict was approved by the Honorable Judge Lorna E. Propes in the Circuit Court of Cook County.
On September 18, 2012, Thomas Neuhengen of Cudahy, Wisconsin, 33, was working as a spare parts manager for Hermle Machine Co. LLC, helping with the tear down of the company's booth from the International Manufacturing Technology Show (IMTS) at McCormick Place. He was knocked down and his left foot was run over by a 58,000 pound 40/60 Versa Lift forklift. According to the complaint, [THOMAS NEUHENGEN, Plaintiff v. GLOBAL EXPERIENCE SPECIALISTS, INC., a Nevada Corporation; and FREDERIC NEIRINCKX, Individually, Defendants. Case No. 12 L 011854], Mr. Neuhengen's attorneys allege the forklift driver, Frederick Neirinckx, failed to keep a clear view of the path of travel, failed to maintain a proper lookout and failed to use a spotter.
Additionally, according to the complaint, Global Experience Specialists, the company that set up the show and hired Mr. Neirinckx did not have a policy in place to make sure forklift drivers were trained and evaluated three-years prior to the 2012 IMTS. The company also failed to assign a three-person crew to the 40/60 Versa Lift. According to reports, Global Experience Specialists was cited with four safety violations by the U.S. Occupational Safety and Health Administration.
As a result of the accident, Mr. Neuhegen suffered a de-gloving injury to his left foot, requiring a number of surgeries. Mr. Neuhegen is a staff sergeant in the Wisconsin Army National Guard and prior to the incident served two tours of duty in Iraq.
"As a result of a corporation ignoring safety rules, Tom's life will never be the same," said lawyer Patrick Salvi II. "The jury's verdict demonstrates the substantial impact and ongoing challenges this incident has had on Tom. We hope this verdict serves as a reminder to companies to ensure employees receive proper training and resources."