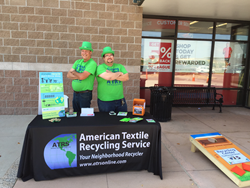 With total spending for K-12 and college expected to reach $68 billion ATRS Recycling has the perfect opportunity to inform students, families and parents about the importance of shopping sustainably
Houston, TX (PRWEB) August 31, 2015
The third annual Shop&Recycle campaign, hosted by American Textile Recycling Service (ATRS) set record-breaking numbers with 3.4 million pounds of textiles collected during the month of August during Back To School shopping season. The 2015 campaign was spiked by support from key fashion malls, shopping centers and retailers at 17 community events nationwide.
The annual campaign aims to encourage families, college students and school kids to shop responsibility at green-minded retail destinations by donating last year's gently used, outgrown, unwanted clothes, shoes and team wear. Conveniently placed ATRS Clothing & Shoe Recyclers were on site as over 10,000 shoppers stopped by to learn about textile recycling from ATRS Signature Green Fairies.
Events were hosted at key Back To School shopping destinations like Simon Malls, Sports Authority stores in Dallas and Denver and 14 Michigan area Maurices stores. Each retailer hosted recyclers throughout the month of August and several stores such as Sports Authority and Maurices offered in-store coupons and discounts on new merchandise for every bag of clothing donated.
In Phoenix, mothers in residence at Weldon House volunteered their time to greet shoppers at the Kohl's Store in Val Vista to share how they rely on the ATRS Clothing & Shoe Recycling partnership to help fund recovery programs. Kohl's also made a contribution of $500 in addition to being a host location for the third consecutive year. Shoppers at selected Sports Authority stores in Dallas participated in the Smiles For Shoes drive to benefit school children from Boys and Girls Club Dallas. ATRS gave away over 100 pairs of nearly new shoes to kids who otherwise would not have had new footwear for school. At the Arlington ISD Back To School event, over 10,000 deserving school kids received free backpacks, school supplies and more from area sponsors including Tarrant County Public Health and ATRS Recycling.
According to the National Retail Federation, total spending for K-12 and college during Back To School in 2015 is expected to reach $68 Billion. ATRS Recycling is committed to educating communities, students, families and parents during this peak buying season about the importance of shopping sustainably and supporting charitable programs and services in their neighborhoods while stocking up on new gear.
To learn more about American Textile Recycling Service's Annual Back2School Shop&Recycle campaign or to find a year-round clothing donation drop off location, call the 24-Hour Hotline 866-900-9308 or visit the Shop&Recycle Page.
American Textile Recycling Service (ATRS) is the nation's fastest growing textile recycler. Its socially responsible business model provides free textile recycling solutions for the public, job stimulation worldwide and much-needed funding for worthy local charities. Easy, convenient ATRS Recyclers are available throughout Michigan; Southern California; Oklahoma; Tennessee; Dallas; Atlanta; Orlando; Phoenix, Scottsdale, Tempe and Tucson, AZ; Houston, San Antonio, Austin, Galveston and Beaumont, TX and Colorado. For press inquires contact pr(at)atrscorp(dot)com.