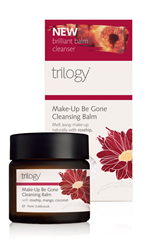 New York, NY (PRWEB) August 31, 2015
Know that feeling, late at night after a long day, when the last thing someone feels like doing is getting the make-up off, then cleansing, toning, moisturizing…?
Well, Trilogy has a treat to make the before-bed routine easier than ever. Trilogy's fabulous Make-Up Be Gone Cleansing Balm is the new, powerfully natural way to melt away make-up and leave the skin feeling wonderful.
One of the hottest trends in cleansing, this luxurious balm removes foundation, mascara and lipstick like nothing else, even stay-put and waterproof formulations. A rich blend of pure plant oils, certified natural Trilogy Make-Up Be Gone Cleansing Balm melts on contact with warm skin, massaging easily onto the face and dissolving away every trace of make-up, along with any impurities and the remains of the day.
With skin-soothing mango butter and pure oils of coconut, sunflower and rosehip, this lush golden balm leaves the skin perfectly cleansed, hydrated and supple.
Packaged with its own sustainably produced, unbleached, Turkish organic cotton cloth, this simple one-step product is formulated with these performance natural actives:

Mango seed butter is anti-inflammatory and highly emollient, soothing and softening the skin.
Coconut oil, another multi-tasking wonder oil, is rich in essential fatty acids and has natural antibacterial properties to heal and repair.
Certified organic rosehip oil, renowned for its ability to repair and rejuvenate the skin, contains a minimum 80% essential fatty acid content to nourish, hydrate and restore.
Sunflower seed oil delivers yet more essential fatty acids, along with antioxidant Vitamin E and minerals, and has calming and soothing properties to maintain balance in the skin.
Gently scented Trilogy Make-Up Be Gone Cleansing Balm has just a touch of natural fragrance, a blend of ylang ylang, freesia and cedarwood for a sensory treat to send you off to bed.
HOW TO USE

Using fingertips, apply ¼ - ½ teaspoon to a dry face and massage in light circular motions.
As the balm melts, gently massage into eyelashes and areas where heavy make-up needs removing.
Wring the organic cotton cloth out in warm water and gently wipe away make-up and balm. Repeat as necessary to remove any excess balm.
Follow with a moisturizer for additional hydration if needed.
Led by Trilogy's passion for innovation and belief that nature is by far the best laboratory, Trilogy will go to the ends of the earth to find the very best natural ingredients available, crafting them into uniquely effective formulations for women who want to feel as good as they look. The latest illustration of plant-oil expertise and proof that there is no need to sacrifice performance for natural, Trilogy Make-Up Be Gone Cleansing Balm is free from petrochemicals and preservatives and holds NATRUE Natural Cosmetics Certification.
Trilogy Make-Up Be Gone Cleansing Balm (80ml/2.7fl.oz) RRP $34.00
WHERE TO FIND: Trilogy products are available from Whole Foods Market stores nationwide, Beautorium.com and other select retailers. For more information, visit trilogyproducts.com.
EDITOR'S NOTE: Maximum effect on the skin, minimum effect on the environment™ – it's Trilogy's mission and mantra.